HARO Backlinks Service:
Get powerful backlinks from the world's most reputable websites…
…with our DFY HARO link-building service!
What is HARO?
HARO is a service that journalists and bloggers use to find sources and quotes from subject matter experts. And if you happen to be the source of their story, you can expect a backlink to your site.
For a detailed description please visit the FAQ section.
HARO SEO: Can HARO Backlinks Service Help?
SEO is complex as search engines like Google keep their algorithms secret. Moreover, they frequently update their algorithms. This makes SEO uncertain.
However, over time, markets and SEOs have identified certain key parameters that search engines use when ranking a page. Backlinks are one of them. In fact, backlinks are considered one of the top 3 ranking factors.
So, how HARO backlinks service help you?
The short answer, they help you acquire high authority backlinks for your sites.
Yes, HARO provides an excellent opportunity to earn high-quality backlinks from top publications (news sites and blogs), which are otherwise not easy to get.
The point is, that the majority of queries on HARO are from popular news sites and blogs such as Forbes, Lifewire, Marketing Sherpa, Business Insider, GoBankingRates, Verywell Mind, NerdWallet, BuzzFeed, Eat This, Washington Post, Databox, etc. to name a few.
These are high Domain Authority Sites (with DA 90+). A contextual link from such domains can significantly boost your SEO performance.
However, getting such links is not easy. It is a very time-consuming process and requires constant effort and expertise.
This is where a professional HARO Backlinks service can help!
What Makes a High-Quality Backlink?
Not all backlinks are created equal. One authoritative backlink will give you a better SEO boost than 100 low-quality links.
So what makes a good link?
To give you an idea, all the high-quality backlinks share the following key traits:
#1. Trusted
High-quality backlinks come from trusted, authoritative sites, not spam sites.
#2. Relevant
Good backlinks come from pages that are topically relevant to your site.
#3. DoFollow
Valuable backlinks have the "Dofollow" attribute and pass the link juice.
#4. Placement
Quality links are placed contextually within the content, not on the footer or sidebar.
However, good links aren't easy to get.
Going by the rule of thumb:
The harder it is to get a backlink, the more valuable it will be.
What makes HARO Backlinks valuable? To know this in detail please visit the FAQ section.
HARO: Just a Link Building Tool?
HARO is definitely an amazing link-building tool (that's why we offer HARO backlinks service where we land high authority backlinks for our clients).
But at the same time, HARO also has other advantages such as Reputation Building. It gives you much-needed exposure and helps you establish authority online.
For example, HARO has helped establish our co-founder JD Bhatala as a leader in the content marketing space.
Which, in turn, helped us get many new clients for our agency. All this has been made possible thanks to HARO pitching. Let's see what Google knows about him: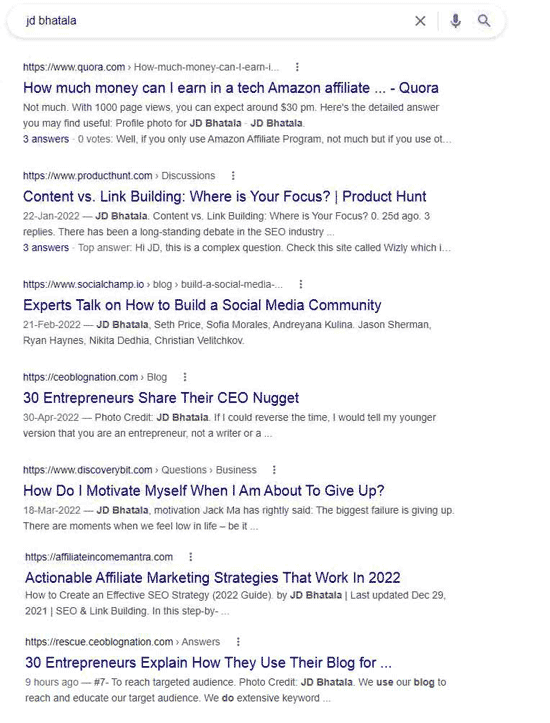 HARO Link Building Services: The Process
Step #1: Onboarding
To get the desired results, we must understand your needs. For this, we first set up a consultation with you where we learn about your business, competition, requirements, etc.
We would also require certain details from your side. Before you place an order, please submit your inputs through this form.
Step #2: Custom Strategy
Based on the data (which we collect from you as well as our own research), we design a custom HARO link-building strategy tailored to your specific needs.
This includes topic relevance (exactly or loosely related niche), target sites (DA/DR, minimum traffic, spam score, geo-targeting), and your specific requirements, if any, etc.
Step #3: Pitching
Once we understand your business requirements and set all the parameters, it's time for real action — pitching.
Our 4-Step HARO Pitching Process
#1. Marketer chooses queries for pitching.
Our marketers continuously monitor HARO emails for link opportunities. We only look for HARO queries that meet our criteria.
Check out our HARO backlinks criteria below.
#2. Assign task to writer.
As soon as they find HARO queries that meet our terms, they compile a list of key ideas for each pitch and assign the task to the respective industry-expert writer.
#3. Writer prepares the pitch.
The copywriter crafts the pitch and ensures that it addresses the journalist's query correctly. He also makes sure that the pitch is grammatically correct and looks as if it came from a professional. And, sends it back to the marketer.
#4. The marketer double-checks the pitch.
The marketer double-checks the commercial aspect and accuracy of the pitch and sends it to the journalist.
What Makes Our HARO Backlinks Service Different?
We continuously monitor the HARO queries for potential link opportunities.
This enables us to act super-quick. We respond to queries as soon as they hit our inbox.
We have a panel of industry-expert writers who write crispy and professional-looking pitches.
We double-check our pitches before sending them to journalists.
We only respond to HARO queries that meet our criteria.
As a result, our HARO pitches are picked more often by journalists. We enjoy a 1/6 to 1/7 publication rate where the industry average is 1/12 or less.
What Are Our HARO Backlinks Criteria?
We only answer HARO queries that meet the criteria listed below:
Dofollow attribute
DR 60+ backlinks (Avg. DR 75)
Moz Spam Score: 10% or less
Organic monthly traffic: 1000+
No more than 2 links from the same domain
Do you have any specific requirements?
No problem. We'll determine them together at the very beginning (during the onboarding process).
Please note:
1) Most of the links will come from sites with better ratings than these. Nevertheless, we guarantee that the links will meet at least the above conditions.
2) We charge for links that meet the criteria listed above. If a link doesn't meet at least one of the criteria – take it as a GIFT from us.
3) You are likely to get more links than you paid for as some of them may come months after we have finished pitching.
We provide HARO Backlinks service for most businesses except for:
1) Pharma, Casino & Gambling, Adult, Dating, Debt Collection, Credit Repair, Pyramid & Get-Rich-Quick Schemes, Firearms & Explosives, Sweepstakes & Contests, Fantasy Sports, Betting industries, etc.
2) Other illegal, controversial, or unethical topics.
HARO provides very few opportunities for such industries and we do not work with them.
HARO Link Building Services Pricing
We offer a highly competitive pricing model for our done-for-you HARO link building services. We offer HARO backlinks service in prepaid packages:

Explore HARO Backlinks Service Plans
Bronze
2 DoFollow HARO backlinks

DR 60+ (Avg. DR 75) links

Turnaround time: 6-8 weeks
Silver
3 DoFollow HARO backlinks

DR 60+ (Avg. DR 75) links

Turnaround time: 6-8 weeks
Gold
5 DoFollow HARO backlinks

DR 60+ (Avg. DR 75) links

Turnaround time: 8-12 weeks
After 5 HARO backlinks: $229 for each additional link.
Placement Guarantee. Pay only for Live Backlinks.
Onboarding Process (Before Placing an Order)
HARO does not work equally for all sites and businesses. Moreover, most journalists/publications do not accept pitches from agencies.
Therefore, we would like to assess your website and its HARO potential in advance. Also, we will need some details from your side.
Before you place an order, please submit your inputs through this form.
HARO Backlinks Service: FAQ
What else you should know about HARO Backlinks Service?
What exactly is HARO? Explain it in detail.
"Help A Reporter Out" (HARO) is a platform where journalists (as well as bloggers) ask questions (queries) on different topics and seek expert inputs from subject matter experts. And, subject matter experts and website owners (sources) respond (pitches) to the queries, relevant to their business/niche.
If a journalist decides to use a response in their article, in most cases, they will link back to the source's website. A win-win situation for both, the reporters and the sources. Journalist gets answers to their questions and sources get free PR and an authoritative backlink.
Here, it's important to note that, journalists usually receive hundreds of pitches for each query they post. Obviously, they have the luxury to pick the best answers.
This is where a professional HARO Backlinks service can help.
How long does it take to get HARO backlinks?
The average delay between the pitch submission and the publication date is 2-4 weeks. It's up to the journalists/publications to decide which pitches to accept.
While we guarantee the placements but do not commit to timings. On average, you can expect 2-3 links placed in 1-2 months and 5 links in 2.5-3.5 months.
Why does it take so long to get HARO links?
The best part about HARO link building is that it is completely organic. However, this is also the weakest part. Because we have no control over the links. That's why it is not scalable. It takes a lot of time.
It all depends on the reporter whether they include our pitch or not. Even if they decide to include the pitch, it's up to them when to publish their article.
While some pitches get published within a week, most pitches often take more than a month to be included. In some cases, we have observed that it may take more than two months.
However, for our clients, there is a blessing in disguise.
How?
We start pitching for you immediately after the completion of the onboarding process and stop pitching when a pre-determined number of links are published.
But, as noted above, since these pitches take time to be published, you will likely get a higher number of links than what you paid for as some of them may come months after we have finished pitching.
How do you report link placements?
Yes. We will provide a link to a Google Sheets report where you will see all the earned links and other updates.
Will you approve pitches with us before sending them to journalists?
Wish we could do that. HARO is time-sensitive. Every pitch comes with a strict deadline, sometimes just a few hours. Plus, the sooner we submit, the more likely the pitch is to be included. Because most of the reporters take some of the early pitches and ignore the rest. Therefore, it is not possible to send every pitch for approval.
What is our involvement in the process?
Not much. At the time of onboarding, you will need to provide the requested details, and we will handle the rest.
How many HARO backlinks can we get per month?
On average, you can expect 2-3 links per month, starting with the second month. However, we can't commit to the timing.
Is it a good fit for my business?
With a few exceptions, HARO works with nearly every business. However, HARO link building is more effective for some businesses (such as Marketing, Business, Lifestyle, Fitness, etc.) than others.
Also, it depends on the authority of your website. For best results, it is important that your site has enough content and it drives a few thousand monthly traffic. Because no media would want to link to a poorly maintained site.
That said, you can run a HARO backlinks campaign even if your site is brand new. But in that case, you will have to put in extra effort and it may take longer.
Therefore, we recommend that you send us your details before ordering our service. You can send your inputs through this form.
Will you get us into Forbes?
While it is possible, we cannot guarantee such placements. It depends on many factors – your niche, site authority, availability of HARO queries, etc.
To be honest, such inclusions are very rare. And, therefore, instead of running after them, we should focus on getting links from other relevant sites which is relatively easy and cost-effective.
How do you approach a specific niche/industry?
We follow the same pitching process for every client. We only look for relevant queries and respond to them only when they meet our criteria.
What makes a high-quality backlink?
All the high-quality backlinks share the following key traits:
#1: Good Backlinks Come From Trusted, Authoritative Sites, Not Spam Sites
Would you rather get a backlink from big sites like Forbes or The New Yorker… or a random article directory?
Looks like Google feels the same way. Google puts lots of weight on the authority of the linking domain. It is called Domain Authority (DA).
The logic is, that the more authority a linking page has, the more link juice (link value) the backlinks will bring to your site.
As it turns out, Google trusts some sites more than others. If you get most of the links from sites that Google doesn't trust (low-authority sites), it will negatively affect your search performance.
However, good links aren't easy to get.
Going by the rule of thumb: The harder it is to get a backlink, the more valuable it will be. Likewise, the easier it is to get a backlink, the lower its value.
For example,
Imagine how much it would cost you to get an authoritative link from Forbes, Business Insider, or CNN.
On the other hand, it's easy to get links from forums or blog comments. You only need to comment on a blog post or answer a thread, and, your link is up.
In short, a single backlink from a major website is more powerful than 100 links from anonymous blogs or 1000 links from shady link farms.
How to assess website authority?
You can use Domain Authority (DA) metric by Moz or Domain Rating (DR) metric by Ahrefs. We use both.
#2. Good Backlinks Come from Sites (and Pages) That Are Topically Relevant To Your Site
If you get a link from a webpage that is topically related to your site, then it's relevant.
For example, if you run a travel site, where do you want to get links from? Definitely, from a site or blog on the same topic, travel, or something related to travel.
So, a link from CNN's travel page is more relevant than one from an SEO article on Moz Blog. It doesn't look natural either. Otherwise why on earth would a travel blog link to an SEO site?
#3: Valuable Links Have the "Dofollow" Attribute
Dofollow links pass on link juice (link authority) to a linking website, nofollow links don't.
And Google and other search engine algorithms treat these links differently. While they do index nofollow links, they tend to ignore links with a "nofollow" tag for ranking purposes.
So, from an SEO point of view, you will want to get "dofollow" links from authority sites.
#4. Good Links Are Contextually Placed Within the Content
The location of a link on a page also matters in SEO.
Backlinks placed inside the content tend to have greater SEO value. Even better, if they are placed at the beginning of the page. Likewise, links that flow naturally with the surrounding content carry much weight.
So, you will want to get contextual backlinks only. Site-wide links that are placed on footers or sidebars are not considered valuable. Moreover, if you have an excessive number of site-wide links, Google will perceive them as spammy.