This is my actionable guide to content marketing strategy in 2023.
The primary purpose of this 'how-to content marketing strategy guide' is to show:
• How to build an effective content marketing strategy
• How to create highly relevant content
• Content creation strategies and content formats that are working in 2023
• How to create a winning content marketing funnel
• How to reach your target audience at the right time
• How and where to promote your content
• Content marketing tools, courses, tips, strategies, and examples
So if you want an effective to scale your content marketing strategy, drive more traffic to your web content, improve your conversion rate, and achieve your content marketing goals, this article is for you.
Let's get started…
Content Marketing Strategy and the Buyer's Journey
So, how will you develop an effective content marketing strategy that works? Here's a step-by-step guide:
A typical customer journey looks like this:
Strangers >> Visitors >> Leads >> Customers >> Repeat Buyers/ Loyal Customers/ Promoters

The types of content you create depend on your target audience and content marketing goals. Content formats include blog posts, articles, guides, infographics, audio podcasts, videos, and more.
You need to map your content to the buyer's journey. Aligning your content that is most relevant for specific stages of the customer journey, is the best content marketing approach.
Let us look at the four stages of the buying cycle and how we can align your content strategy for each phase.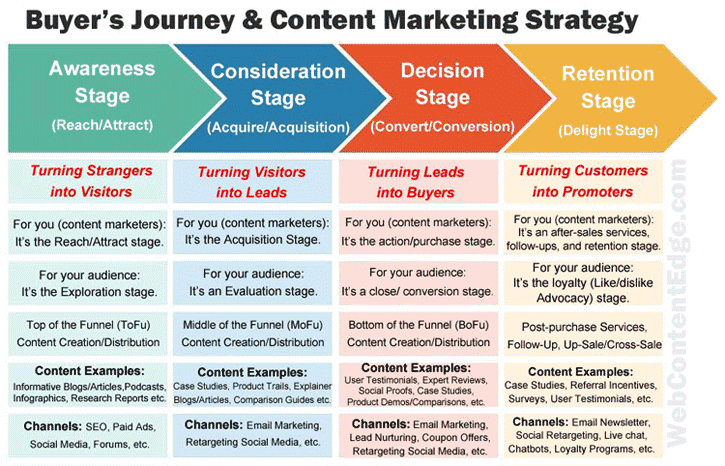 #1. Awareness Stage: Turning Strangers into Visitors
Reach/Attract >> Strangers to Visitors – (Exploration Stage)

Content Marketing Goals: Target relevant audiences, generate brand awareness, and attract them to your website/landing /product pages.
For you (content marketers), it's the Reach/Attract stage.
For your audience, this is the Awareness or Exploration stage.
How will people buy your product/service unless they know about it?
This is the primary objective of content marketing – to get found by your customer and prospects.
A well-thought inbound content marketing can help you attract your potential ideal customers.
Go where your audience is. Reach out to them and attract them to your website, blog, sales landing pages, or e-commerce portal.
Now it's your responsibility as a content marketer to be available where your ideal audience hangs out.
If you get it right, this is when your audience will first discover your brand.
Usually, it starts with a question…
At the Awareness Stage customers realize that they have a problem. But hasn't clearly defined their need.
In other words, this is the exploration stage as they are looking for a possible solution for their specific needs. They search for some product or service that helps them solve their pain points.
Initially, if you are new, people may or may not know about your brand, website, product, or services.
It is the time when they first discover your product or service. It might be a Facebook post, a Google search, a tweet, or something else.
Therefore, you need to attract them to your landers or website. You need to reach them proactively and help them find you.
How?
By delivering targeted educational content, on the right channels.
You may ask: Why content marketing strategy is important? What is the right content? What is the right channel to promote that content?
Well, before you create and promote your content, you need to know who your audience is.
As long as you know what your target audience wants and needs, you should be able to create assets that drive rankings, links, traffic, and (hopefully) conversions.
This way, you attract the right prospects to your website or landers, engage and influence them with relevant content, and build trust and credibility – which will go a long way in building your brand identity.
Content Marketing Strategy for the Exploration Stage
ToFu (Top of the Funnel) Content: Depending on your audience, you can utilize different content formats for ToFu content.
To maximize your reach over time, you need to offer different content formats and distribute them through multiple/ relevant content marketing channels.
The objective is to provide information regarding their needs rather than on your solution.
Some of the most effective forms of content and respective content marketing platforms for the awareness stage include:
• Blog Posts and Informative Articles
• Search Engine Optimization (SEO)
• Search Engine Marketing (SEM) (paid search ads)
• Social Media Optimization (SMO)
• Social Media Marketing (SMM) (paid social platform ads)
• E-Books
• Infographics
• How-to Videos
• Podcasts
• Educational Webinars
• White-Papers
• Research Reports
• Checklist
• Kit or Tools
• User Manuals
• Etc.
A study by McKinsey suggests that brand loyalty is now more elusive. Up to 70 percent of consumer purchases are driven by initial consideration.
Winning the initial consideration battle has become even more critical for businesses. Consumers are more likely to choose one brand over another based on brand perceptions and recent exposure across multiple touchpoints.
Multiple studies on consumer behavior found that 'exposure frequency' affects brand recall and purchase intention.
Yes, frequent exposure to your brand's message influences your audience, helps you build trust with them, and keeps you in front of their minds.
The more trust the consumer has in your brand and the more exposure to your brand they receive, the more likely they buy a product.
Educating your customer about your products and services (and the brand as a whole) is the primary content marketing objective. So, make sure your customers find you. Be available for your audience. Help them solve their burning issues.
Once you get visitors to your website, it's time to keep them engaged. Turn them into ideal leads and guide them toward the active consideration stage.
How?
That's the topic of the next section.
#2. Consideration Stage: Turning Visitors into Leads
Acquire/ Acquisition >> Visitors to Leads – (Evaluation Stage)

Content Marketing Goals: Turn casual visitors into repeat visitors, email subscribers, and leads.
For content marketers, it's the Acquisition Stage.
For your audience, it's an evaluation/research/consideration stage.
Tools: For Acquisition (Consideration) Stage your content marketing strategy template includes sales calls, CTAs (calls to action), Lead Magnet, email newsletter sequences, social media engagement, interaction, and follow-ups.
So you created top-class educational content. Reached your target audience by distributing that content on the right marketing platforms. And finally, they visit your website/landing page.
Well done! So far, so good.
What next?
After the awareness phase comes the consideration or evaluation phase. This is the onset of a relationship between the buyer and the seller.
By now, the buyer knows what they need. They are a little familiar with your product or service.
They are evaluating the problem. How it can be solved? Is it needed immediately, right here right now? Or it can also be done later?
They search for available solutions to their specific problems. Compare various alternatives. They weigh several factors such as need urgency, cost, benefits, convenience, etc.
It's your job to convince customers that, out of the potential solutions, yours is the product or service they should choose.
At this point, though the audience has acquired a lot of information, they are not quite sure which product or service is the best for them. This means they are still not fully prepared to make a purchase decision. They might or might not buy a solution.
Sometimes the buyer gets overwhelmed with the options (information overload) and doesn't know what is actually needed.
As a content marketer, your goal is to:
– Show them the possible ways they can solve their problem.
– Show them how useful the product will be to them.
– Show them how it will help them.
– Also, help people understand why and how your product is superior to your competitors.
How?
Through relevant MoFu (Middle of the Funnel) content. A well-planned content marketing strategy helps you convert casual web visitors into leads. Develop landing pages, lead magnets, and thank you pages. Capture their emails through opt-in lead magnets. Convert your visitors into subscribers.
What is a lead magnet?
A Lead Magnets is the call to action (CTA) opt-in form. You offer something of value in exchange for lead capture (usually, giving them a little taste of your product, for free – an offer they simply can't refuse).
As discussed earlier, once your potential customers become aware of a solution, they will perform research to educate themselves. They compare different products or services available.
This is the stage where you engage with them and win their trust. Provide detailed information about your products and show your audience how and why your product best fits their needs.
Drip-feed them through personalized educational email newsletters. Interact with them on social media. Engage them at every touchpoint available.
What is a touchpoint?
A touchpoint can be defined as the 'point of interaction with a customer (or a potential customer) along the customer journey.'
It could be person-to-person interaction, website or app visits, paid search ads, search engine results, linkbuilding, social media posts, affiliate links, shopping, upsell/cross-sell, email subscriptions, events, customer loyalty programs, or any other form of communication.
When you consistently provide your target audience with focused, relevant, and personalized content, you can help them understand the possible solutions to their burning issues and prepare them for a purchase.
In return, you grab maximum attention from your prospects. And, when they ultimately decide to purchase a product or service, you will be the most likely choice.
Content Marketing Strategy for the Consideration Stage
MoFu (Middle of the Funnel) Content: You provide informative content that educates and stimulate the interests of your buyers.
Content should be provided in a format that can be easily shared with key decision-makers. MoFu content might include an expert guide, case study, research report, product demo, FAQs, how-to guides, etc.
Some of the most effective forms of content for the active consideration stage include:
• Case Studies
• Webinars
• Product Demonstrations
• White-Papers
• Product Trails
• How-to Blogs and Explainer Articles
• Email Marketing
• Retargeting/Remarketing
• Social Media
• Product Comparison Guide
• Case Study
• Free Sample
• Etc.
Wait, even though you get into the active evaluation phase, your job is not done yet. You are still vulnerable. You are just 'one of the many' options, not the 'only' option.
Customer is actively researching and evaluating their needs. They can remove you from the consideration list. Being there is not enough, you have to stay there. Be the brand of choice!
What does it take to be the brand of choice? How to convert those leads into buyers?
That's what I'm going to cover in the next section…
#3. Decision Stage: Turning Leads into Buyers
Convert/Close >> Leads to Customers – (Action/Purchase Decision)

Content Marketing Goals: Close the leads by turning them into customers.
For content marketers, it's the action/ purchase decision stage.
For your audience, it's a close/ conversion stage.
Action: You offer a coupon your leads can't resist, then begin marketing to them again to boost retention.
The conversion/Decision stage comes after the consideration stage. At the decision phase, your potential customer makes a decision based on their research. Your goal is to help them make a positive decision and finally become your consumer.
Well, you've done a pretty good job by converting strangers into leads and repeat visitors to your website.
Your content marketing strategy has worked well so far — you have been educating, engaging, and interacting with them through your email sequences and social media platforms. As a result, your target audience has got it all figured out.
They have acquired all the information. They have done comprehensive research, and have evaluated/compared various vendors/service providers including you.
Now the customer is convinced enough and is almost ready to take action – to make the purchase decision.
Now, it's time to take the next step and close the deal. Yes, you have got the perfect audience to convert into buyers.
However, chances are, they may not have decided yet where to buy from. Keep in mind, the buyer has decided to buy the product or service but has not yet purchased it.
Agreed, that your brand is on their mind as well, but only as a possible option among many other brands. It may be your product or the one from your competitors.
They compare your product with that of your competitors. They will compare various factors including brand reputation, customer reviews, cost, perceived benefits, ease of use, after-sales services, warranty, appearance (size, color, and design), quality/features, etc. – a lot of things.
And finally, they will compare your story, particularly if you are in a very competitive market. How engaging and convincing you are, how trustworthy you are – this can be the deciding factor.
And, therefore, your content marketing efforts should focus on purposeful storytelling.
How?
Through lead nurturing.
What is Lead Nurturing?
Lead nurturing is developing, maintaining, and reinforcing relationships with your leads. It's all about strengthening your presence by providing useful educational content at every stage of the sales funnel.
Share powerful, engaging stories. Make a connection with your customers. Motivate them with purposeful stories.
The more interaction and engagement you create with your leads, the more you understand the nuances of your customer's preferences (such as their budget, timing, and needs).
Targeted lead nurturing (by aligning with your audience's specific needs) enables you to stay 'top of mind' among your prospects. So that when they are ready to buy, you are there as a valuable resource – and more likely to be their first choice.
Now, as a content marketer, you can/should do two things simultaneously.
a) Show your prospects why you are the best choice
b) Simplify Your Process
a) Show them why you are the best choice:
It's very important to convince your prospects that you are the best in the market.
How will you prove to your customers that your product/service is worth buying — worth their time, money, and trust? It can be done through a unique value proposition and powerful storytelling.
#1. Create a Unique Value Proposition
Communicate value. Create a compelling value proposition. Know your audience, and interact with them. Find their burning needs. Find what they are looking for. Create a targeted pitch for them.
What is Value Proposition?
In marketing, Value Proposition is a promise statement that you, as a business, use to summarize why a prospect should buy from you.
Your value proposition statement should include these three things:
Relevancy (Explain Why): Human brain is always searching for answers. Give them the reasons – tell them why they need your product. Show them how it will help them resolve their specific problem.
Show them what benefits this will bring to their lives, and how. Refine your email message, sales pages, and CTAs around 'how your prospects will benefit' if they buy your product or service — e.g. it'll save you up to 60% of your time.
Value (Focus on Benefits, Not Features): Sell the outcome, not features. Value can be functional, monetary, social, or psychological. Your stories should focus on the benefits and emotions.
Show your prospects how it works. Use case studies to tell your audience about your product's benefits, not its features. The features are boring. Tell how the consumer will ultimately benefit.
Focus your marketing messages on how your product or service will add convenience to their lives. Tell them how it will make their life easy — such as your product increases productivity, enhances the quality of work/life, is easy to use/handle/carry, is easy to operate/manage, etc.
Uniqueness: What differentiates you from your competitors? Show your prospect how you are the best choice.
Help your audience understand how your product is the best. Show how your product or service solves their problem.
Through price/feature comparisons, post-purchase services, user testimonials, etc. you can assure a buyer that you are the best option to go for.
Provide personalized solutions they need. Offer free trials. For instance, if you are a service provider, offer them some sort of evaluation/analysis for free. It will build trust. It also allows you to show your expertise.
#2. Build Trust (Offer Proof to Back Your Claims):
At the decision/conversion stage of the buyer's journey, the role of 'user-generated content' is huge. Price vis-à-vis the quality of the product is equally important.
Positive reviews on product pages boost sales. Researches show that people trust user reviews, buyer testimonials, recommendations, and ratings the most. People look to others to determine what actions they should take.
Remember, your prospects are almost ready to pull the trigger. But they want to validate their decision before they buy your product. thinkwithgoogle.com/intl/en-apac/consumer-insights/consumer-trends/what-india-searching-insights-brands/
People want reassurance that they're making the right decision. They want to know what other people think about the product/service.
You can use customer recommendations and reviews to show your audience how your product/ services have helped others and can bring the same desirable results to them. Use testimonials from third-party experts to build trust and increase product desire.
Buyer testimonials, case studies, expert reviews, etc. reassure your customers. It helps you direct them toward positive decisions.
On the contrary, if you don't offer proof to back your claims (in the form of buyer testimonials etc.), they will seek validation from elsewhere.
And once they leave your website, there is no guarantee that they will return to buy your product or service.
#3. Show Them You Care:
Make your prospects feel significant, let them know you care about them.
How?
Tell the stories your audience cares about. Add feelings to your content. We all are emotional creatures, and so are your customers. Every decision we make involves feelings and emotions such as trust, value, fear, time, instant gratification, belonging, guilt, novelty, leadership, competition/rivalry, etc.
Stories trigger emotions. For this, it's very important to know your customer. What triggers them?
Fortunately, you have an opportunity to use the data you collected from the very beginning (awareness phase). You have identified what the ideal customer looks like and created different buyer persona(s) that buy your product.
You have been engaging with them throughout the buyer's cycle. You even tracked their activity and filtered customer profiles based on their engagement behaviors such as email open rates, bounces, clicks, session duration, frequency, permission, and other preferences.
Apply that data intelligence to create stories that trigger your customers. Nurture your leads with abandoned cart emails, retargeting ads, fresh content, how-to guides, real user feedback, case studies, research reports, etc.
Send personalized email/social media messages. Comment on their social media posts. Erase their doubts. Answer their queries. Create a FAQ section on your website. Provide personalized on-site experiences. Provide superior customer service.
When you explain the "benefits" they can expect from your product, when you show them how your solution is superior to competitors, it increases customer interest in your product.
And, when you demonstrate how much you value your consumer, you boost their confidence in your product/services.
This will help you stand out in the marketplace – which makes them more likely to buy from you.
Renowned author "Zig" Ziglar said:
"Every sale has five basic obstacles: no need, no money, no hurry, no desire, no trust."
While we can't do much about the first 3 reasons, we definitely can increase product desire and build trust.
Build trust with your prospects. Be honest. Be genuine. It's the key thing. Don't promise something you can't deliver.
Remember that, it's about them, not you. It's less about selling to them and more about helping them. It's about what your product can do for them.
b) Simplify Your Procedure
Make the whole buying process hassle-free.
The law of least effort states that people almost always choose the easiest way to do something – the path of least resistance or effort. For customers, it can be cost, benefits, convenience, landing page, CTA design, buying process, etc.
Market studies show that the 'overall buying experience' actually outranks product and price. Personalized on-site experiences greatly influence conversion rates.
How they feel about your product, and how smooth and convenient is the buying process, all these elements that determine whether or not they will buy something from you.
Product price is one of the important factors. In fact, when other factors are almost the same, price becomes the only deciding factor. However, when the value is apparent price, becomes less of an obstacle.
It's particularly true if you are in the B2C segment and sell low-cost products such as garments, toys, artificial jewelry, etc. or sell cheap digital products such as eBooks, etc.
So, how to make the purchase process smooth and enhance buying experience?
#1- Make It Hassle-free: Make it easy for your customer to buy from you – Reduce/minimize friction as much as possible. Make the overall buying process easy and intuitive.
Guide your user along the buying process. Show them what they should do next. It should be short – in as few as possible clicks. All buttons and forms should be visible and positioned in the right places.
#2- Remove Distractions: On your landing pages and product pages, remove everything that is not contributing to the conversion such as unnecessary images, links, sidebars, headers, navigation menu, etc.
#3- Too Many Options and Low Conversion Rates:
Giving customers too many choices can lead to fewer sales.
Sounds strange? But true.
Studies show that having too many options (choice overload) makes it difficult for people to make the right decision. If the buyer cannot make a decision, it's very unlikely that they buy your product.
We all love having choices, but too many options exhaust us. Offering too many options will discourage your customers from taking action. This could lead to lower conversion rates.
While you can always give your customers some choices, limiting them to fewer options is the best practice.
As a marketer, your job is to remove any friction that might cause them to abandon their cart or opt for your competitor.
Here are a few more tips that you can apply to improve on-site user experience, shorten the conversion funnel, and convert visitors faster:
Re-emphasize your value proposition such as free delivery during checkout
Add incentives to take action right away
Offer time-bound discounts
Highlight high demand (thus creating urgency/scarcity). Nothing creates urgency like scarcity. Quantity-related scarcity (e.g., 2 seats left at this price), time-related scarcity (e.g., last day to buy), etc.
Provide multiple payment methods
Reduce or remove risk – Offer guarantees to eliminate or reduce the perceived risks
Offer Bundle Pricing
What is Bundle Pricing Strategy?
Sell your product as a bundle of multiple units. Bundle Pricing is a marketing strategy where businesses combine multiple different products or services (usually complimentary products) into a single package deal – for an all-inclusive reduced price.
Product bundling/bundle pricing examples:
New phone sold with a data plan
Your favorite Pizza with a soda
Combo meal with an entrée, a side dish, and a drink
A software package with multiple apps
A television with a TV stand.
It's a win-win situation for both – you as a seller and the customer. Price bundling encourages people to purchase more than one item. It increases your profits as you upsell and cross-sell a range of items. It also saves your marketing & distribution cost.
You can promote new products as well. Your customers are happy because they get products at a discounted price. Price bundling also simplifies the buying process and enhances the customer experience.
Content Marketing Strategy for Decision Stage
BoFu (Bottom of the Funnel) Content: At the action phase, your content marketing strategy should focus on:
• User reviews, buyer testimonials, and ratings
• Third-party expert reviews/recommendations
• In-depth case studies
• Benchmarking reports
• Research and studies
• Free trials
• Product demos, videos that showcase your product in action
• Marketing trends and social proofs
• Product comparisons
• Strategic pricing – create price references.
• Self-service channels, create an awesome FAQ page, knowledge base, etc.
• Abandoned cart emails
• Retargeting ads
• Personalized on-site experiences
• Consultation offer
• Coupons
• Live chat
• Chatbots
#4. Retention Stage: Turning Customers into Repeat Buyers
Engage/Retain >> Customers > Repeat Buyers, Followers, and Promoters (Like/dislike, Share, Love/Hate)

Content Marketing Goals: Post-purchase services, follow-up, retargeting, up-sale/cross-sale, email newsletter, engage conversation to retain customers and enhance brand loyalty
For your audience, this is the loyalty stage. (Loyalty, Advocacy- Like/dislike, Share, Love/Hate).
For content marketers, delight and retain the customer with superior after-sales services and follow-ups.
Through a well-planned content marketing strategy, you have established a relationship with your customer.
You gained sufficient trust among them. And that the buyer purchased a product from you.
What next?
Customer retention.
Customer retention means, maintaining the trust that you've already established.
It also means, reinforcing your relationship with your consumers.
Why customer retention is important?
Because:
a) Acquiring a new customer can cost multiple times more than retaining an existing customer.
b) Having a solid base of satisfied customers is essential to the future growth of your business, as they will become your biggest brand ambassadors. Yes, they will advocate for your brand for free!
So, how to turn your newly acquired customers into repeat buyers, loyal followers, and promoters?
After the customer purchases your product or service, do not stop there. That shouldn't be the end of the relationship. Instead, it's the beginning.
What steps can you take to retain the customers?
Create Meaningful Conversations: When it comes to customer retention, maintaining constant communication is crucial. Make it a two-way interaction between you and your customer.
Provide them with useful content (e.g. how-to guides, podcasts, etc.). Send out personalized product recommendations from time to time.
Show Individual Attention: Send them personalized thank you emails. Follow up on them and let them know that you care. Communicate to them to know if they're satisfied with your product or services.
Deliver More Than You Promised: If you want to retain your customers, deliver more than you promised. Offer superior after-sales services. Respond quickly to their queries and concerns.
Zig Ziglar says,
"People don't buy for logical reasons. They buy for emotional reasons."
The key thing to remember here is: People do not buy products or services. For that matter, people don't buy features, either; nor do they buy benefits. What the majority of people actually buy are promises, feelings, and emotions —what the product or services promise the customer.
You gain customer loyalty when you fulfill their expectations, delivering (even exceeding) the promises you make to your customers.
If your product is great, and once you show how much you value your customers, chances are they will reciprocate in kind.
By taking such little steps to show your customer you care, you can minimize customer churn and build a long-term relationship with them.
They become loyal to your brand and are willing to promote your products and services. You get a free 'word-of-mouth' promotion.
Word-of-mouth promotion is the most effective form of marketing. Research has shown that recommendations from friends or family members have far more influence over purchase decisions than influencers or celebrities.
In fact, Nielsen research shows that 92% of people trust earned media, such as word-of-mouth or recommendations from friends and family, above all other forms of advertising.
Likewise, according to a McKinsey study, consumer-to-consumer 'word of mouth' generates more than two times the sales of paid advertising.
This means people are more likely to buy a product if it's recommended by someone they already know such as friends or family members.
What is Word of Mouth Marketing?
It's two types:
Organic Word of Mouth: Organic 'word of mouth' is a form of promotion. It happens when you over-deliver and the customer is delighted by your product as well as services. When such happy customers share their experiences with other people they meet, you get free promotion. It is organic and purely based on true recommendations.
Paid Word of Mouth Marketing: On the other hand, paid word of mouth marketing involves targeted efforts and paid promotions where an influencer or a celebrity promotes your products in the form of comments, reviews, images, video, blog articles, vlogs, social media posts, etc.
Content Marketing Strategy for Delight Stage
The ideal content formats and channels for your delight phase may include:
• Email Marketing
• Conduct surveys
• Perform social monitoring
• Self-service channels, FAQ page, etc.
• Retargeting/Remarketing
• User testimonials
• Research and case studies
• Personalized on-site experiences
• Coupons
• Live chat
• Chatbots
• Loyalty Programs
Offer referral incentives: Offer rewards on purchases. Offer exclusive discounts/ bonuses on subsequent purchases. Offer referral incentives such as reward points, gift cards, gift coupons, etc.
Apart from these, retarget existing customers, assign memberships, invite them to an event, and encourage them to share their experiences. These are some great ways to maintain customer loyalty.
Researches show that convenience is quickly emerging as the single biggest driver of long-term customer loyalty. In fact, the customer conversion journey is now being dictated by the convenience factor more than anything else.
Today, more and more people are purchasing goods and services online. They expect instant solutions – there and then. An ever-growing number of people are relying on online reviews and social media for feedback and referrals.
Researches show that over 90 percent of people check online reviews before purchasing a product. People trust online reviews as much as a personal recommendations and form an opinion. It becomes even more crucial if you run an online business.
Have you built a system/platform where your customers can ask questions and share their experiences and stories? It'll help you engage them. It'll help you predict their needs. And, you will have a strong community of loyal customers.
Once again, for Delight Stage, your content marketing strategy template should be like this:
– Create a system that encourages your customers to leave reviews.
– After customers make a purchase, send a thank you email.
– Ask for feedback and Invite them to participate in customer satisfaction surveys.
– Provide self-serving solutions, step-by-step how-to guides, etc.
It'll save their time and effort. Make the whole buying process hassle-free.
In the end, as a content marketer, your objective is to turn your buyers into promoters. So, engage with your customers, over-deliver, and make them feel important to develop a long-term relationship.
You see, convenience is the KEY thing, particularly if your target demographic is Millennials (aka Gen Y) and Gen Z.
The moral of the story is:
Businesses that use innovative ways to delight their consumers – care about their customers, over-deliver customers' expectations, are available to help them when needed, and try to keep them happy — in short, make 'customer convenience' a top priority will thrive.
On the other hand, the ones who try to sell their stuff somehow, don't meet customers' needs and expectations, and use dubious marketing and sales techniques will struggle to survive.
The choice is yours!
Content Marketing Strategy: FAQ
1) How do you run a content marketing campaign?
To create a successful content marketing campaign you need to 1) Determine your target audience, 2) Define your marketing goals, 3) Perform research — plan content ideas and topics, 3) Choose the right platforms to distribute your content, and finally, 4) Track your content marketing campaign.
2) What are the three R's of content marketing?
The 3 R's of content marketing are: 1) Reduce (focus on quality, not quantity), 2) Reuse (share your content on multiple channels), and 3) Recycle (use variations of content such as transforming your blog text into slideshows or infographics).
3) How do you optimize content marketing strategy?
Optimizing your content marketing strategy is important. You have to refine your buyer persona. Optimize your content for search engines. Create content for different stages of the audience. Promote the right content on channels. Measure your content marketing progress and make necessary changes.
4) How long should a marketing campaign run for?
There is no one-size-fits-all formula. That said, a period of 3-6 months is considered the minimum for reviewing a content marketing campaign.
5) What are the 5 common components of a content marketing campaign?
The FIVE components of a content marketing campaign include a) goal setting, b) determining a target market & competitive research, c) content strategy, d) content creation and promotion, and e) assessing results.
6) What are the 4 main categories/ stages/ keys of content marketing?
The four stages of content marketing: awareness, evaluation, purchase, and delight. In other words, a) attract – drive traffic, b) engage – build trust & authority, c) inspire – convert them to subscribe/opt-in, and d) action – lead them to take action (click on a link, subscribe, purchase, etc.
strong>7) What are three content strategies?
The three content strategies are Brand Storytelling, User-Generated Content, and Content Personalization.
8) What is the golden circle in content marketing?

The golden circle in content marketing is about creating and distributing content based on three key elements: why, how, and what. It emphasizes starting with the purpose (why), followed by the method (how), and finally the product (what).
For example, a skincare brand's golden circle approach in content marketing would revolve around creating content that focuses on promoting natural beauty (why), using organic ingredients (how), and offering cleansers, moisturizers, and serums (what).
9) What is the key to successful content marketing (what makes content marketing successful)?
To succeed in content marketing, you need to make sure you know your audience, create content that is useful for them, and finally make sure it reaches them at the right time.
That's it for now. Thank you for reading.
By JD Bhatala
JD Bhatala is a Content Marketing Strategist with over 10 years of experience. He is the co-founder of Web Content Edge where he helps online businesses gain visibility and increase traffic, leads, and sales. Catch him online at Twitter or LinkedIn.