What is content marketing?
How to identify an ideal audience?
How to reach the target audience?
How to create highly relevant content that matches our audience's needs?
These are some of the questions that we frequently get from our clients.
In this post, I'll try to address these questions and cover content marketing basics.
So if you want to scale your content marketing process, increase engagement and improve conversion rate that eventually leads to more revenue, this article is for you.
Some background first…
Look around you.
Pizza is delivered in 30 minutes.
Uber is available within minutes, 24-hours.
Need info? Google is just a click away.
Amazon offers free same-day delivery.
Want a video tutorial, YouTube videos stream with a click.
Need uninterrupted entertainment – why Netflix is so popular?
Workout and dieting are not easy, look for some miracle pill or herb (why is the weight loss industry thriving?)
What about 2-minute noodles?
So on…
If you observe things, on the surface, it seems like people are looking for some goods or services, but in reality, they are looking for certain solutions and convenience.
So, people want products and services that can save them time. Something that is easy to use. Something that requires lesser effort and commitment. Something that is tailored to match their preferences.
In short, people want convenience.
By convenience, I mean speed, availability, simplicity (simple, transparent process – easy to use/operate). And people expect it at every turn. Further, they want convenience on their terms.
But, what is the use/importance of 'convenience' in the content marketing framework?

At Their Convenience: Integrating 'Ease' Into Your Content Marketing
As we just see,
It's not only about keywords and link building.
It's just not about search engine rankings.
It's not about Facebook ads either.
You got the point — It's about answering their queries, solving their problems and addressing their pain points.
More importantly, it's about convenience and time.
Now, some of you might be thinking like, "Well, wait for a second JD, I understand that time is money and that people are willing to pay for a convenient experience. But, as far as content marketing is concerned, how can we help customers save time and effort?
I'm glad you asked!
The primary purpose of this article is to show:
a) Why online marketers should integrate 'convenience' into their content marketing process.
b) How they can implement convenience content marketing strategy to their advantage.
So, what does convenience really mean?
Dictionary meaning of convenience:
Merriam-Webster Dictionary: "something that is conducive to comfort or ease." (1)
Cambridge Dictionary: "something that operates quickly and needs little effort."
Oxford Learners Dictionary: "anything that saves or simplifies work, adds to one's ease or comfort."
In content marketing, true convenience means: helping your audience at every stage of the buying journey — making things easy for your prospects.
That means,
a) Providing the information they are looking for – answers to their concerns, questions, and key pain points. Provide in-depth buyer guides, user manuals, how-to guides, tutorials in form of blogs, articles, videos, audio podcasts, interactive content, white papers, research reports, infographics, etc.
b) Be available where they hang out – provide that information where they are looking for.
c) Provide information in their preferred format/device (also, depending on your product/services).
d) Provide solutions (relevant content) when they want/need it.
In short,
Help them save time. Help them save effort.
If that is the case, then as a content marketer, what is your job?
Hold on, we're coming to the exact same point.

What Is Content Marketing?
In the 21st century, people are tech-savvy. No one likes intrusive, invasive ads in the middle of nowhere. People have learned to ignore sales pitches. They turn to ad blockers to combat the frustrating ads and improve their online experience.
As a content marketer, it's your job to find alternative promotional ways that are less intrusive and more engaging. That's when content marketing comes in.
So, what is content marketing mean in digital marketing?
First, content marketing definition:
In layman's terms:
In content marketing, you engage your audience and develop mutual relationships that lead to sales – with high-quality educational content.
More technical definition (for you digital marketing guys, no pun intended):
Content marketing is a strategic marketing approach that involves regularly creating and distributing highly-relevant, educational content for your target audience.
By providing valuable, interesting content on a consistent basis, you educate the buyer, help solve their burning problems, add value to their lives and build rapport with them.
And finally, when your audience is ready to make a purchase decision, you are the brand they think of first.
To sum up: Inbound content marketing is the process where you attract, engage, convert and retain a customer — with high-quality educational content – without being salesy (or overtly promotional).
Going back to the original questions:
a) Importance of convenience in content marketing.
b) How to reach your target audience with relevant educational content at right time?
As we discussed earlier, 'Convenience' is the KEY thing.
Once again, as an online marketer, your content marketing in digital marketing should focus on:
Nurturing relationships with your targeted audience through every step of their buying journey — educate them, engage them, help them, encourage them, lead them – make their journey frictionless, make it convenient at every stage.
But, how can you reach your target audience at the right time? And, how to know when they are ready for and receptive to your message?

Right Content at the Right Time
Successful inbound content marketing is essentially about providing users with the right content at the right time.
Right from the…
– 'Strangers' (when they don't know your brand) TO showing an initial interest in a product or service ('Visitors' to your website/landing page)
– 'Visitors' TO 'Leads' (when they subscribe to your email campaigns/ newsletter)
– 'Leads' TO making an actual purchase ('Buyers') and
– 'Buyers' TO 'Repeat Buyers and Loyal Followers',
…you need to create and promote (read make available) engaging educational content for every step in the customer journey.
But the problem is, everyone on the planet is not your customer. Nor is every net surfer.
If you try to please everyone, you'll spread too thin. No one will be happy.
Your brand will come off too vanilla and boring. You will have a hard time seeing results. Your content marketing efforts will fall flat.
Lesson: You can't please everyone!
Bernard M. Baruch has right said:
'Be who you are and say what you feel, because those who mind don't matter, and those who matter don't mind.'
You need to narrow down your approach and figure out who your ideal audience is.
So, who is your audience exactly?
Knowing your target audience is the very first step before you even try to create a piece of content. It is a prerequisite to be able to get found by your customer when they are searching for your product or service.
You need to figure out who your ideal audience is. Distill them into a single person. This is called 'customer persona' or 'buyer persona'.

How To Identify Your Target Audience?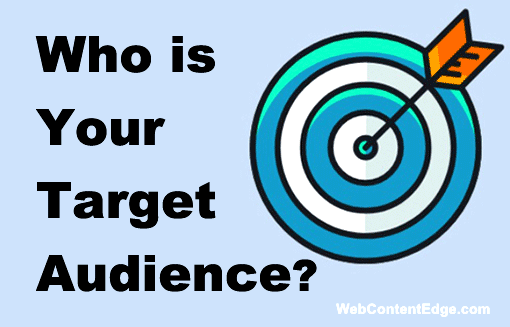 You need to perform in-depth research to identify your target audience. Know their preferences — keywords they use, content formats they like, websites they visit, devices they use, etc.
Your market research will include some or all of the following:
Start with your current customer base (if you already have)
Conduct market research – understand your target market
Know your niche – analyze your products and services
Define your target demographic
Perform competitor analysis
Look for market trends (e.g. Google trends)
Perform keyword research
Visit relevant forums and question/answer sites such as Reddit, Quora etc.
Look at social media sites like Facebook, Twitter, Instagram, LinkedIn etc.
Create buyer persona(s)
Send out customer surveys
Once you identify your target audience, you can create the right content, for the right people, on the right medium, at right time.
Inbound marketing focuses on providing the right content to the right customer at the right time
For instance,
If they are searching on Google, concentrate on search engine optimization (SEO). Create high-quality keyword-optimized, in-depth guides and tutorials for them. Guest posting and HARO link building will also help.

If they are active on social media such as Facebook, Twitter, etc. be there to educate them. Create social media pages, invite them to your pages, join relevant groups, engage them with two-way conversations, surveys, etc.

Likewise, if they hang out on some question/answer sites such as Quora, Reddit, wiki sites or online forums, go there. Address their pain point, challenges, or topic of interest with your in-depth answers and tips.

If they are on image-sharing sites like Pinterest, create high-quality, relevant, educational Infographics, share them on relevant social media platforms.

Similarly if your audience prefer audio-video content, create podcasts, video tutorials, etc. for YouTube, TikTok, Wistia, Vimeo, Audible, and Google Audiobooks, etc.
Besides these, you can reach the target audience and build awareness with paid advertising such as Google Ads, Facebook Ads, Native advertising, banner ads, etc.
By creating rich educational content and distributing it on the right content marketing channels, you are telling your audience you understand them and you care about their problems.
In short,
Be there where your audience is most active.
That means,
a) First, you need the Right People – identify your Target Audience.
b) Second, you need to create the Right Content (with right angle) – content relevant to your audiences' needs along their buyer's journey. Create unique, high-quality content relevant to a specific platform (e.g., blog posts, website content, landing pages, podcasts, video tutorials, how-to guides, webinars, social media content, paid ads, etc.)
c) Third, you need to distribute/publish/circulate/syndicate/promote that content on the Right Content Marketing Channels/ Mediums/ Platforms – where your audience hangs out – at the right place, in the right format, in the right language, on the right device.
Promote your content on relevant channels. This includes SEO for search engines such as Google, social media, video sites, online forums, etc. to bring new visitors to your website/landing pages.
For instance,
Place (where your audience hangs out): Search engines such as Google/Bing, YouTube, Facebook, Twitter, Instagram, Pinterest, LinkedIn, Quora, etc.
Format (based on platform and product nature): Video, audio, text content such as articles, blog posts, white papers, press releases, emails, etc., images, infographics, PowerPoint presentations, and other graphics
Language (your target audience's' language): in English or French or German, any other regional/local languages.
Device (their preferred device): on mobile or desktop, on Android or iOS devices
d) Fourth, promote that content at the Right Time – again, along the buyer's journey (right from Awareness Stage to Loyalty Stage).
And, always in that order.
Thank you for reading. Until next time.
By JD Bhatala
JD Bhatala is a Content Marketing Strategist with over 10 years of experience. He is the co-founder of Web Content Edge where he helps online businesses gain visibility and increase traffic, leads, and sales. Catch him online at Twitter or LinkedIn.