This is a step-by-step guide to HARO link building in 2023. In this article we'll learn how to use HARO to get killer backlinks.
It is no secret that backlinks are the most important Google ranking factor after quality content.
If you're like me, who survives (and thrives) on online income, you probably know how important backlinks are to your online success.
When it comes to SEO and search traffic, the impact of backlinks is huge. It is a well-known fact that links are one of the most important Google ranking factors. At the same time, acquiring backlinks is the hardest part of growing your online business, particularly when you are first starting. After all, it's frustrating to keep sending cold outreach emails over and over and not getting a favorable response.
Want to earn links from strong domains? Check out our DFY HARO Backlinks Service.
Many new site owners struggle to get backlinks and that discourages them to the extent, that either they tend to look for some shortcuts or think of quitting it altogether.
If you're one of those people who are on the verge of quitting, here's a light at the end of the tunnel – that's HARO link building.
Now, here I am not going to tell you what backlinks are and how important are they. Etc. I assume you already know. Instead, in this HARO link building guide, I will show you the exact steps I followed to get some of the most valuable backlinks for my sites as well as our clients.
How valuable are these haro backlinks? To give you an idea, some of the links we get are from top publications like Forbes, TechCrunch, Yahoo, BuzzFeed, etc.
So, without much ado, let's dive into the HARO link-building strategies we've successfully implemented.
Let me begin with a little background on HARO for those unfamiliar with the platform.
What is HARO?
HARO stands for "Help a Reporter Out". It's a free platform for journalists (reporters) seeking newsworthy stories and the people (sources) looking for opportunities to be featured in top publications.
On the platform, journalists ask questions (queries) and people like us (sources) respond to them (pitch). If a reporter finds your response useful, they will mention you in their article and will often give a credit link back to your site.
It's a win-win! Isn't it?
With this short introduction, let us move on to the actual HARO link-building strategy…
What is HARO Link Building?
Link building helps websites gain more visibility and authority online. Among the various techniques that digital marketers use to build backlinks, HARO link building has become an increasingly popular approach.
HARO link building involves responding to journalists' queries, getting featured in their articles, and earning a link back to your website.
This way you get featured on top sites like The New York Times, HuffPost, etc. which is otherwise not possible for an average blogger or marketer. Bitter but true.
Here, I don't need to tell you how powerful the backlinks from such top sites are and how much you need them. In this article, I'll cover what, why, and how of HARO link building.
Why HARO Link Building?
If done correctly, HARO link building can prove to be a game-changer for your SEO efforts. How?
1) Get featured on DA 90+ websites for greater visibility:
Getting featured on DA 90+ sites like The Wall Street Journal is not easy. For beginners, it's almost impossible. However, with HARO link building, you have an opportunity to get mentioned on such publications.
If you're consistent enough, HARO backlinks strategy can get you featured on high-authority sites that will help you improve your brand awareness and credibility.
It also sends a signal to Google that your website is trustworthy. It meets the requirements of Google's E-E-A-T (Experience, Expertise, Authority, and Trustworthiness) guidelines and ultimately improves your search rankings. This is the primary objective of every marketer and blogger. Isn't it?
2) Earn POWERFUL backlinks with little effort:
Obviously, acquiring backlinks from high-authority websites like Forbes puts you as an authority in your space. These are very powerful backlinks and you get a ton of referral traffic as well. This signals to search engines that you are a reliable source of information. Which again improves your SEO performance.
3) Cost-effective link building
HARO Link Building provides a cost-effective way to get authority backlinks. Link building is a time-consuming process. It is also expensive, especially if you hire agencies to build the links.
However, with HARO, you can get backlinks relatively easily without any investment. All you have to do is join their platform and answer questions from journalists on a regular basis.
HARO Link Building: How It Works?
How to use HARO for link building? Although it sounds complicated, thanks to many "experts", it is actually an easy and efficient link-building technique. Joining HARO is straightforward. Here's a step-by-step process:
Step 1: Sign up for HARO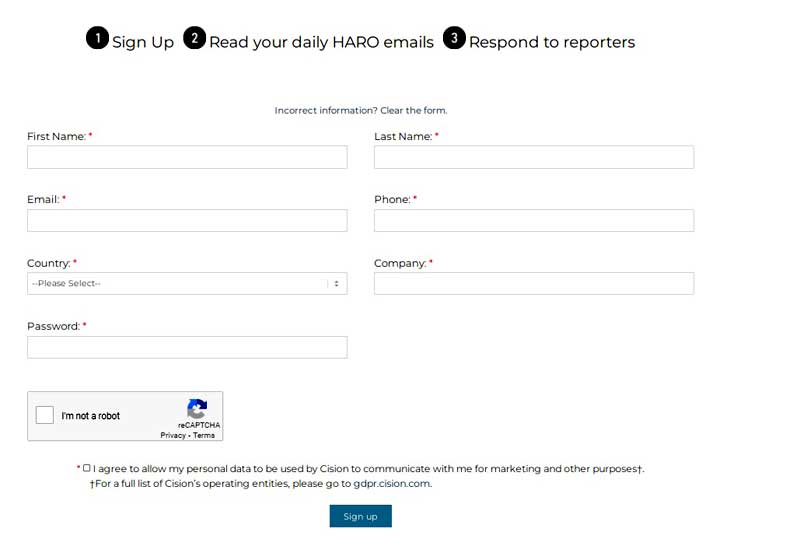 First, you need to create an account on HARO. Head over to the HARO site and create an account following the steps provided.
Depending on your goal, you can join HARO either as a reporter or a source. For example, if you aim to get content insights (news reports, interviews, expert opinions, etc.) you want to sign up as "I'm A Journalist". On the other hand, if your aim is marketing (such as PR exposure, backlinks, traffic, etc.), you want to select the "I'm A Source" option.
Step 2: Account Settings

After signing up, you'll need to set your preferences.
This includes providing a few details such as providing your contact details such as an address, phone, etc. (though not mandatory) and selecting the industries of your choice.
Selection of the correct industry is important. So that HARO sends you only those queries which are relevant to you.
HARO sends emails three times a day, Monday through Friday. These emails contain hundreds of queries from journalists in different categories – such as Biotech and Healthcare, Business and Finance, Travel, Legal, Lifestyle and Fitness, Education, High Tech, Entertainment and Media, General, etc.
Here, if you are just starting, don't get tempted to tick off every industry. Since HARO sends out 3 different emails every day for different categories, there will be a lot of duplicate entries. You will get overwhelmed by the sheer number of queries.
That's why we subscribed to the "Master HARO" list only as it covers all the industries. Now we receive only 3 emails per day where we get queries from all industries in a single email.
Disclaimer: When I say that HARO link building is very effective, please note that it is not the only way to build backlinks to your site. Furthermore, I don't even claim that this is the best link-building strategy. It all depends on your specific goals and the available resources and time.
That said, HARO link building is one of the best ways to acquire authority backlinks.
Consider this,
According to author RH Kanakia, for a new writer, the chances of getting featured in publications like The New Yorker are less than 0.0025%, that is, 1 in 40,000.
That's such a low probability that she adds, for new writers, it's not even worth imagining.
Not only that, it's completely impossible to get published in The New Yorker if you pitch through their online submissions form.
On the other hand, if you follow the HARO route, you have a fair chance of getting featured in the top publications like the New York Times, Forbes, Business Insider, HuffPost, The Wall Street Journal, and more.
What did you say?
Too good to be true… Can't believe it?
Keep reading, I'll show you it's possible, and it's much easier than any other method.
Also read: Content Marketing: How to Run a Well-Timed Content Marketing Campaign in 2022?
How to get featured on top publications (and get authority backlinks) through HARO?
Once you created an account, it's time for action. This is the holy grail of the HARO link building.
Based on the priorities you set in step #2 above, you will receive questions related to your industry. You will pick the queries that best suit your niche/topic and answer them as required by the reporter. It can be anything from news stories, case studies, research reports, insights, expert inputs, etc.
However, while it sounds straightforward, and to some extent it is, there are some smart tricks that you need to know to get optimal results from HARO link building.
Want to earn links from strong domains? Check out our DFY HARO Backlinks Service.
What are these tricks? Let's dive into them right away.
HARO Link Building: Responding to Queries
Now that you've created an account on HARO and set your preferences, it's time to make miracles happen. Here's how?
Follow these exact steps:
Step #1: Monitor Your Emails
Once you're signed in, HARO will send emails containing queries – THREE times a day, with tons of questions from journalists looking for expert input from sources.
In the beginning, it might seem overwhelming as the emails contain tons of queries. But don't fret. If you know the tricks it will be relatively smooth sailing.
Therefore, it is important that you keep an eye on these emails and look for queries relevant to your business. If you get relevant questions (which you definitely will), respond to them as quickly as possible.
Step #2: Be Selective
While there are numerous questions from journalists, you don't need to answer every query out there.
You need to be selective.
Quickly scan the emails and look for the questions that best fit your business. For example, responding to a query on bathroom design may not be useful if you are running a marketing site. Similarly, if you run a cryptocurrency blog, you will not want to answer a health-related query.
So, it's most important that you pitch to a query that matches your industry.
Pro tip: While choosing a topic, it need not be an exact match, but should be loosely related. For example, if you run a fitness blog/site, a recipe-related query might also work. Though it's not an exact fit, food is somehow related to health and fitness.
That means while you will want to pitch the fitness blogs, sometimes you can also respond to related niches such as food, lifestyle, wellness & general health, etc. sites.
Because, if you work in a tight niche, there might be a limited number of HARO queries. This will limit your chances drastically.
So, first, look for the exact niche. If you don't find them, you can look for other closely related topics.
Step #3: Be Quick, Really Quick
Yes, journalists are always in a hurry. It's truer for those working with big publications. So, they usually pick the first few pitches and leave the remaining. They will only look for the remaining responses if they don't get the desired answer from the initial pitches.
So, if you want to maximize your chances of getting featured on top sites, be quick, really quick in responding.
Pro tip: Aim to respond within the first hour. We have repeatedly observed that whenever we responded within an hour, journalists picked up our pitches more than the ones sent 5-8 hours later or the next day.
Step #4: Be Insightful
Pitch only if you know the thing. Else, you will waste your time and efforts.
I've seen people copy content from different sites, rewrite it, and send it to journalists.
If you are going to answer their questions by doing Google, then keep in mind, that they could have done this themselves.
Then why would they post it on HARO?
Journos are on HARO because they are looking for some expert insights… something they can't easily find on Google.
Therefore, copying, rewriting, reformatting, etc. tricks won't work with HARO. You should be (or at least appear to be) an expert in the topic you are responding to. That is, your response should be 'genuine' and insightful. This should add value to their audience.
Step #5: Rambling Won't Work
Most of the HARO queries ask for a paragraph response. So, provide exactly the same.
Many people send long article-type responses as if they are pitching for a guest post. It's not necessary at all. Journalists neither have the time nor are they interested in your detailed articles.
So, you don't need to waste time writing long responses. Save it for your own blogs or guest post pitching, and provide a concise, to-the-point response that they can use in their articles.
That said, you can certainly send a long pitch when a query clearly calls for a detailed response. Although this happens rarely.
Pro tip: Many times I have seen queries where journalists ask for in-depth answers. In addition, there are also a certain amount of fake (or pseudo) reporters who abuse platforms like HARO and want you to write content for free and not even give you credit.
So, my advice is to avoid such queries, as most of these tend to be low-quality sites. Also, instead of writing a long post and not getting links, you can use your time to write more pitches for relevant and genuine sites.
This leads to the next step.
Step #6: Know Who You Are Pitching To
Before you write a pitch, you need to determine if the site is worth responding to.
Yes, this is very important.
How to do this? We follow these steps:
#1. Check for their DA/DR: Usually most of the queries include a media outlet. You can search for the site and once you get the website URL, check for its domain authority (DA) or domain rating (DR). When looking for DA/DR, aim for websites that have similar or higher ratings than yours. For example, if your site has DA 45, targeting a site with DA 45 or higher is the best bet. You can use any SEO tool to find DA/DR.
#2. Spam Score: Another important metric to watch is the Spam Score (SS) of the target site. Because some sites with very strong DA may have been heavily abused/spammed in the past. Getting links from such sites can hurt your SEO. Therefore, it is important to check their spam score. If it is more than 10%, then it is better to avoid such sites.
#3. Organic monthly traffic: Similarly, another important thing to check is the monthly traffic of the site. We use the SimilarWeb SEO tool to find out the site's monthly traffic and its traffic sources. For us, the rule of thumb is the target site should have at least 10k monthly organic visitors. From an SEO point of view, we believe, that if a site is driving this amount of traffic, it is safe to get links from it.
#4. Link Type: Last but not least, it is also important to know what kind of link you are going to get from a particular site. Many sites will give you a link back but nofollow. As everyone knows, when it comes to SEO, nofollow links do not have much link value as they do not pass the link juice.
Therefore, before pitching, you will want to visit their blog posts and check whether their outgoing links are dofollow or nofollow. If all outgoing links are nofollow then it is better to avoid such sites.
You should only pitch such sites if the site is really huge and you are likely to get more exposure and referral traffic.
The Skinny on Anonymous HARO Queries
On HARO, you will also see several anonymous queries. It's like a shot in the dark. Because it could be a really high-profile reporter working with top authority sites (like Forbes) or someone from a low-quality site who is wasting your time.
While it is true that some journalists prefer to remain anonymous for a variety of reasons, most anonymous queries on HARO are from poor-quality publications.
Therefore, you need to take them with a pinch of salt. Read their queries carefully. Check their style, grammar, word choice, etc. Finally, go with your gut feeling. If you think the query is worth your time, go ahead, otherwise skip it.
By following these HARO link-building strategies, we have earned some of the most valuable backlinks for our sites as well as for our clients.
Looking for a haro link building agency? Want to learn more about our HARO backlinks service?
Check them out here: HARO Link Building Services
HARO Link Building: FAQ
1) What is a HARO link?
A HARO link is a backlink (hyperlink) that you earn through the Help a Reporter Out (HARO) platform. When you respond to a journalist's query and if they include your pitch and link back to your website that is a HARO link.
2) What does HARO mean in SEO?
In SEO, HARO is a platform that provides an opportunity for marketers and website owners to earn backlinks from authority publications. That's why it's called HARO link building.
3) How do I get links from HARO/ How to use HARO for backlinks?
To get links from HARO or use HARO for backlinks, respond to journalist queries with relevant and valuable information. Don't forget to include a link as a source so that the reporter can link back to you.
4) What is HARO used for/What is the full form of HARO?
HARO is used to connect journalists with sources (marketers, bloggers, etc.) and stands for Help a Reporter Out.
5) How to use HARO for business?
Use HARO for business by responding to journalists' queries with expert insights or unique perspectives related to your industry. You gain exposure, build HARO links, and get potential media coverage.
) What is HARO in marketing / What does HARO stand for in marketing?
HARO in marketing refers to a platform that helps journalists and marketers connect. Journalists get valuable insights for their stories and marketers earn authority backlinks and media coverage.
7) How to be successful with HARO?
To be successful with HARO link building, respond promptly to relevant queries with valuable insights, showcase your expertise, and provide concise and compelling pitches.
8) Is HARO good for link building?
HARO link building is one of the best link-building strategies out there. If done strategically, you can earn high-authority backlinks from top publications like Forbes, New Yorker, HuffPost, Bustle, Business Insider, ZDNET, CEO Blog Nation, Shopify, CMSWire, etc. which is otherwise almost impossible for beginners.
9) How do you use HARO for link building?
To use HARO for link building, you need to respond to relevant queries ASAP. Your pitch should be precise and concise with high-quality information. Also include a short bio with a backlink to your website.
10) What are the benefits of HARO?
The benefits of HARO link building are many. These include gaining media exposure, earning valuable backlinks, establishing brand credibility, and expanding your network with journalists and niche experts.
11) How much does HARO cost?
The cost of HARO varies depending on the subscription plan, ranging from free basic access to paid premium options.
12) What is HARO and how it works?
HARO is a platform that connects journalists with expert sources (marketers) who can provide valuable insight into their specific queries. If they like your pitch, they'll include you in their articles, and maybe link back to your site.
13) What is the success rate of HARO?
The success rate of HARO depends on various factors. These include the quality and relevance of your responses, how early you respond to their queries, the authority of your website, etc.
14) Is HARO free to use?
HARO offers both free and paid subscription options, with basic access being free to use.
15) What is the HARO marketing strategy?
HARO marketing strategy involves leveraging the platform to gain media exposure, establish thought leadership, build backlinks, and enhance brand visibility.
16) How do you respond to HARO?
Respond to HARO queries by providing relevant and concise information, demonstrating your expertise, and following any specific guidelines provided by the reporter.
17) How do you write a perfect HARO pitch?
To write a perfect HARO pitch, focus on providing unique insights, demonstrating expertise, and keeping the pitch concise and relevant to the journalist's query.
18) What time does HARO send emails?
HARO sends emails containing journalist queries multiple times throughout the day, typically in the morning, afternoon, and evening, depending on the journalist's schedule and specific edition of HARO.
By JD Bhatala
JD Bhatala is a Content Marketing Strategist with over 15 years of experience. He is the co-founder of Web Content Edge where he helps online businesses gain visibility and increase traffic, leads, and sales. Catch him online at Twitter or LinkedIn.