Whether you are launching a new website or trying to grow an old site, you need traffic and tons of it. But the question is how to drive relevant traffic? Where to get it from? What are the best traffic sources? Further, are there any free traffic sources?
In this article, I'll discuss some of the best traffic sources that are free or almost free.
Before we dive into the free traffic sources, it's important to understand that getting any traffic will not help – you need quality traffic. By "quality traffic", I mean relevant, targeted audience which is interested in your product or service.
So, what are the best free traffic sources? Let's dive in without further ado:
Top Best Free Traffic Source in 2022
Below are some of the best sources which are massive and drive tons of free traffic. Let's explore them one by one.
According to a study by Ahrefs, 90.63% of the content available on the web doesn't get a single visitor from a Google search. This is an irony that content creators devote so much time to writing, designing content. But they fail to find (and attract) an audience to it.
#1. Organic Search SEO
The number one free traffic sources are search engines. Among them, Google is the dominating one with over 85% market share.
Why is search traffic important?
First, over 50% of total web traffic comes from search engines. Studies show that almost two-thirds of web visitors begin with a search. Whether they are searching for some information or looking for a product to buy, they start with a search on Google or other search engines.
In fact, for over 72% of online buyers, the journey starts with a Google search. (source)
That makes search engines the #1 traffic source.
Second, search traffic is the most targeted traffic. Since they are searching on Google, which means the audience is already prime. And converts well.
That is the reason, search engine optimization (SEO) has such an important role in digital marketing. Every site owner invests time and energy in SEO.
Now, don't get me wrong. Search traffic doesn't come automatically. It's not like you create a site and Google will send you thousands of people from the next day.
To get search traffic, you need to get to the top of the search engine. For that, you have to create top-notch content and amply it through different channels. And it takes a lot of time and effort.
You might ask like, then how is it a free traffic source?
Well, there is no such thing as a free lunch. You will still have to work on content creation and promotion. But you are not directly paying for the traffic as you do in PPC ads.
Then, how to drive tons of free search traffic?
• Work on your content: Create world-class content. Optimize it for search keywords and search intent.
• Build links: Get backlinks from relevant and authoritative sources.
• Promote & Amply: Share your content on social media and other industry forums.
Once you have a sufficient amount of content, you build authoritative links and have social media visibility, you will gradually step-up to the SERP ladder. Then, you will get free search traffic.
#2. Social Media as Free Traffic Source
Social media platforms are one of the biggest free traffic sources.
Billions of people spend a considerable amount of their daily time on the social media platform of their choice. Therefore, if done correctly, you can direct millions of people to your site.
Why social media?
Brand building- Businesses use social platforms for brand building. You can do the same and increase your online presence and boost brand awareness.
User engagement – you can directly interact with your target audience at any time. At your convenience. Which is not possible/practical otherwise.
Free traffic source – Unless you spend on paid advertising, you can share content, interact with your target audience, and drive traffic to your site, for free.
There are many social media platforms. But not all platforms are equal. The different social platform caters to different demography. Similarly there differ in features, niche, content type, etc.
If you are planning to use social media as a free traffic source, make sure you pick the one that suits your product, niche industry, audience, and expertise.
Definitely, you will want to go where your target audience hangs out. Some of the most popular social media platforms these days include:
1) Twitter
Surprised to see Twitter here? You need not. Twitter is one of the most powerful free traffic sources for bloggers and online businesses.
You can share anything and everything (with some exceptions) on Twitter and bring you a stream of regular traffic to your site, for free.
This is something like texting a message. You share short posts here on Twitter with a link back to your content. If you share valuable content regularly, you can expect a sizable amount of referral traffic.
By valuable, I mean it. Your posts should be useful to your readers. Wherever you create a new blog post or find helpful content elsewhere, don't forget to share it with your followers. Likewise, you can announce new launches and engage in discussions.
Be it an event, a new movie launch, or a new product launch, Twitter is the first to hear about it. With over 300 million users, Twitter is the most happening place on the internet.
So, why not take advantage of the free traffic source and take a small chunk of it to your site?
Remember, do it ethically without spamming the space.
Pro Tips:
• Follow influencers on your space.
• Follow bloggers in your niche.
• Tweet and retweet useful information.
• Interact with fellow twitters.
• Don't look salesy. Putting links on each post won't work. Use them strategically.
• Instead, add links to your pinned Tweet and your profile bio.
• Be consistent.
• Follow a schedule. You'll want to use an automation tool to automate your tweets.
• Focus on growing your followers.
• Recycle your blog content to create evergreen tweets.
• Retweet your best-performing tweets.
2) Using Facebook as a Free Traffic Source
Facebook Groups are probably one of the most under-used free traffic sources.
Facebook has over 2.89 billion active users. But you don't need all of them to move the needle. You need a really small portion of it. However, your usual Facebook profile feed doesn't work these days. Facebook has deliberately reduced the organic reach.
Instead, use Facebook groups that have a greater reach within the group.
What to do this?
Find and join the groups in your space. For example, if you deal in pet care, you'll want to join the Facebook groups in the pet business. Alternatively, you can also create your own Facebook group.
Either way, you can use these communities to share and spread awareness around your site or brand.
Since these are like-minded people, if you consistently share some valuable, engaging stuff, they will come to your site, for sure.
Pro Tips:
• Join the relevant groups only.
• Share useful ideas only.
• Be polite and restful.
• Be responsive.
• Be consistent.
3) Pinterest as Free Traffic Source

Pinterest is different. Unlike other social media platforms, it's a social media platform that acts as a search engine. Basically, Pinterest is a search engine for visual images. So, you can call it a visual search engine.
With over 450 million monthly active users, Pinterest offers a rare combination of social media and search engines.
People visit Pinterest in search of inspiring visuals. You can create visual boards where you share your information in the form of images, diagrams, videos, Infographics, etc. These posts are called "Pin".
When it comes to user engagement, Pinterest is the leader. In fact, Pinterest followers are seven times more engaged than Facebook followers.


(source)
Pinterest is particularly useful for certain niches where you use a lot of images, such as food and recipes, fashion, fitness, beauty, home & garden, DIY & crafts, pets, photography, etc.
If your business falls into any of these categories, Pinterest is the best place to drive tons of free traffic.
Pro Tips:
• Make your images visually appealing.
• Create tons of vertical images.
• Use software and tools like Photoshop, Canva, etc. to create superior images.
• Create a separate Board for each theme.
• Don't forget to add optimized titles and descriptions.
• Add a link to your images and make them bold, clearly visible.
• Capture your Pinterest traffic through email opt-ins.
• Use tools like Tailwind Tribes to manage your Pinterest account.
• To get maximum exposure, find relevant group boards and Pin on them.
When used correctly, Pinterest can bring hundreds and thousands of engaged visitors to your site month after month.
4) Instagram Free Traffic

Since you are reading this article, you must know Instagram. But what most people don't know is it can be a huge source of free traffic.
Instagram is an image-heavy social media site. People share Instagram stories in the form of images and short videos.
Billions of people use Instagram every day. From young & teens to moms & dads, everyone is on the platform.
The best thing about Instagram is, they have a buying-hungry user base. This means you have a perfect audience that just needs to be sent to your money pages.
Just like with other social platforms, to drive traffic to your website, you must first build a following. Yes, you have to stand out from the crowd. For this, you have to create an influence.
Once you have an engaged following, you can then direct them to your site.
Pro Tips (for best results):
• Be creative – design to-notch images
• Include hashtags that can describe your photos and videos
• Be responsive
• Put a backlink to your website in your bio
• Add links to your photos and videos
• Add links to the products on your Instagram shopping page
5) YouTube as a Free Traffic Source
In 2022, people consume a lot of video content.
YouTube is the #1 video-sharing site. Over 2.1 billion people use YouTube. This makes it one of the best free traffic sources.
People visit YouTube either for entertainment or to learn things. Depending on the nature of your business, you can create educational videos and post them on YouTube.
If your content is engaging, entertaining, and useful to the audience, they will like and share it. People will subscribe to your channel and gradually your viewership will increase.
Then you can channelize them wherever you want — your landing pages, affiliate products, etc.
This guide is on free traffic sources for affiliate marketing. This space is not enough to discuss all the YouTube tips in detail right now. However, some of the most effective ways to drive free traffic from YouTube include:
How can you use YouTube to drive free traffic to your site?
Pro Tips:
• Create an explanatory channel description. Don't hesitate to demonstrate the benefits the viewer can get from watching your videos.
• Upload informative video tutorials that people can easily follow. Keep your target viewer in mind.
• Focus on quality — upload high-quality videos and maximize watch time.
• Optimize your videos around target keywords. Provide detailed video descriptions.
• Don't forget to add with a clear call-to-action (such as a link back to your site).
• Be consistent. Even better to have an upload schedule.
• Capture your visitors' email with optimized lead magnets.
6) Reddit

Reddit is a Q&A site. Although it is similar to Quora in that sense, Reddit is probably the best place if you are looking for honest reviews and information.
People turn to Reddit to find unbiased opinions on marketing, services, and tech products. This shows that people believe what is discussed on the forum. That's why Reddit is one of the widely used free traffic sources for digital marketers. You will also want to attract lots of targeted free traffic to your site.
You can join the Reddit community and share valuable content. The posts are called "threads". As you grow your reputation, then it'll be easy to drive more traffic to your site.
Find categories called "subreddits" relevant to your business and focus on providing value with insightful ideas and information.
Keep in mind that Reddit users are tech-savvy. If they found you spamming the space, you might be banned from the threads. So strictly follow the rules set by the individual subreddits.
So, be cautious. Don't place irrelevant links in your thread. Don't promote the same links again and again. Focus on building a reputation first.
If your posts are awesome and if the community members find them honest and useful, they will "Upvote" it. Each Upvote will move your post towards the top of the site.
You will get more exposure. If your answer has links to your website, your traffic could seriously increase. What is more, some of them might link to you.
The audience on Reddit is highly-focused. It makes the platform one of the best free traffic sources out there.
7) LinkedIn

LinkedIn is the B2B marketer's paradise. With over 700 700 million active users, LinkedIn is the #1 social media platform for B2B marketers.
What makes LinkedIn popular?
Unlike other social media sites such as Facebook or Instagram, the audience on LinkedIn is super-focused. They are there for real business.
So, if you are in the B2B segment, LinkedIn could be your best free source of traffic. You can drive targeted traffic to your blog or site, and tons of it.
How to drive free traffic from LinkedIn?
• Create a professional profile page for you or your business. Put website links in your profile.
• Show credentials in your bio.
• Expand your network – connect to the people who have similar business interests.
• Follow influencers in your industry.
• Share high-quality, insightful content relevant to your business and network. Occasionally, include your links on the posts.
• Join related Groups. You can create your own Groups as well.
• Collaborate with other community members.
• Participate in discussions. Ask and answer questions posted there.
If done correctly, you'll see steady referral traffic to your website.
LinkedIn offers an incredible opportunity for content marketers. It has over 700 million users and over 1 billion monthly visitors. But little over 1% of them post regularly.
This means it's easy to stand out. If you just start posting once or twice a week, you'll be in the top 1% right away.
So, don't limit yourself to just posting generic posts like "new job" or "we are hiring". Instead, share some valuable content that interests your target audience.
Here are some quick facts about LinkedIn:
• LinkedIn is the #1 social media platform for B2B marketers. 94% of B2B marketers use LinkedIn as their content distribution channel.
• 98% of content marketers use as opposed to only Twitter at 89%, Facebook at 77%.
• More than 50% of all social traffic to B2B sites comes from LinkedIn making it a go-to place for B2B content distribution.
These statistics are enough to explain why you should start sharing content on LinkedIn.
Also Read: Content Marketing Statistics That Will Blow Your Mind
If you have something valuable to distribute, LinkedIn should be your choice of platform. Something as simple as republishing a summary of your content on LinkedIn can put you in a unique league of content creators. That in return will create a steady stream of "ready-to-buy" visitors to your site.
Pro Tips:
• Craft content that contains a lot of value
• How-to and list posts work best on LinkedIn
• Keep titles short (40-49 characters).
• Create several subheadings (it's found that posts with five headings had the most views).
• Make your content long-form (2000+ words)
• Include 7-10 images, diagrams, etc. (content with eight images performed best).
• Don't put external links in the body. As it appears, LinkedIn doesn't prefer outbound links in the content.
• Instead, add your link as the first comment on the post. And don't forget to tell your audience that there is a link in the first comment.
8) TikTok
TikTok is a relatively new player. However, with the speed it's growing, you cannot afford to ignore the platform.
In a short period, TikTok has accumulated billions of active users, beating social networks like Twitter, Pinterest, and Snapchat.
With over 1.5 billion users, TikTok is a new but promising free traffic source. You can take advantage of the opportunity and drive traffic & sales.
How to drive free traffic from TikTok in 2022?
Here are the steps that help you turn your TikTok visitors into paying customers:
i) Send Traffic to Your Website Homepage
TikTok doesn't allow links on non-sponsored posts. But you can still send your audience directly to your website. For this to work, put your webpage link in your bio and ask your fans to click the "link in the bio". You'll want to change your landing page links with each new campaign.
ii) Boost Your Mailing List
Your email list is your most valuable asset. Similar to the step above, you can use TikTok to capture emails from your target audience.
Use your TikTok profile link to send visitors to your landing page where you capture their emails, which allows you to send personalized emails as and when you want.
iii) Connect to Other Social Profiles
If you are active on other social media channels then you can direct your TikTok audience on that platform as well. Connect your social media accounts on the bio.
This is the quickest way to start driving traffic from your TikTok account. Currently, you can add direct links to your Instagram and YouTube profiles.
Just look at how Spikeball sends TikTok traffic to their Instagram account: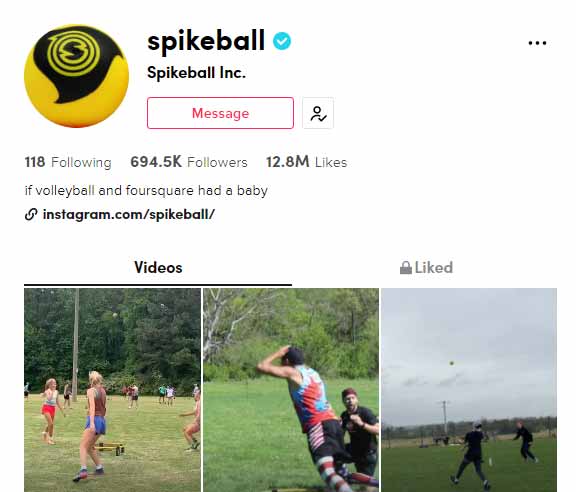 iv) Partner with Influencers
TikTok is full of creators. Some of them with millions of followers. If you partner with such content creators and influencers, it'll boost your visibility and brand awareness. This is a judo move. Which in return, will drive more traffic, conversions, and product sales.
TikTok is considered a "teenagers only" platform. However, this is far from the truth. Their user base is well-distributed among people of all ages. Here is the report: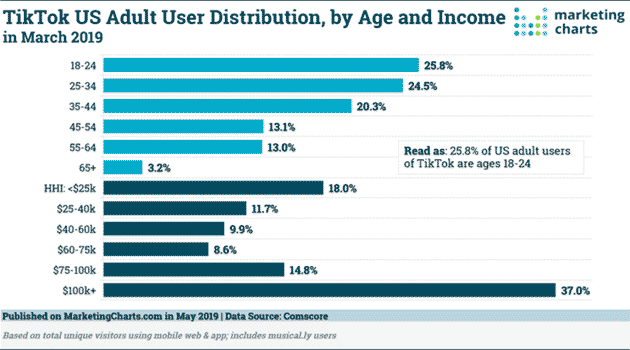 (source)
v) Upload Quality Videos
TikTok is best-known for teen dance routines and short fun, lip-sync videos. Many businesses are doing well on TikTok. Creating engaging videos gave them immense success overnight.
As it appears, TikTok promotes videos that have high engagement. If your TikTok video gets more views, likes, comments, shares, and re-watches, then it is more likely to be served to more viewers.
By JD Bhatala
JD Bhatala is a Content Marketing Strategist with over 15 years of experience. He is the co-founder of Web Content Edge where he helps online businesses gain visibility and increase traffic, leads, and sales. Catch him online at Twitter or LinkedIn.