Want to Earn Backlinks?
Great! This is the definitive guide to earning authority backlinks with content marketing.
Organically earned backlinks are the most valuable links.
It happens when someone visits your web pages and finds them valuable and/or interesting.
If they find it interesting they can share it.
If they find it truly valuable they will mention your page in their content and link back to it.
So you earn a backlink without asking for it.
Obviously, this isn't going to happen unless:
1) You have something really outstanding.
2) People find your content.
You can kill both the birds with a single shot. That's called content marketing, SEO-focused content marketing.
Earn Backlinks (High DR) with Content Marketing
What is content marketing? According to Web Content Edge, Content marketing is all about creating educational content beneficial to your audience and making it available to them, without being promotional, on a regular basis.
This boils down to:
1) Creating Link-Worthy Content (Linkable Assets) – You really need to create something awesome that site owners would like to mention within their content.
2) Content Amplification – Show your 'awesome' content to people (who own/manage websites).
How would someone link to your content unless they know it exists? For this, you will want to promote it among site owners, site admins, editors, and influencers.
You will earn backlinks, which in return, make your content available to your audience, and increase your reach and online influence.
Let's look at these two steps one by one:
Step 1) Create Linkable Assets
Step 2) Promote (Amplify) Your Content
Creating the Linkable Assets
Yes, for your content to attract links, you need to create awesome content that attracts tons of backlinks.
In my experience, it involves a few steps in the process.
1) Find What Is Working Right Now
Before you create a piece of content, you'll want to find what is working right now?
What if you invested a lot of effort and resources on an article and later it turns out that it doesn't work.
Therefore, you will want to make sure that you only create what is already proven.
And, it's pretty simple.
How?
1) Rely on Google
Search for the topics/terms that you want to write about.
Now observe the first page of SERP. See what kind of content Google shows on the first page.
What are the top 10 results? Is there any video? Is it also showing pictures, questions, etc.?
By now you must have got an idea of what kind of content is ranking on Google.
Don't get me wrong.
Of course, this article is about earning links through content marketing. But, you will agree with me in that the top-ranked pages usually have the highest number of high-value backlinks.
For that,
2) Find Pages That Have The Most Backlinks
For this, you can use any SEO tool – Ahrefs, Moz, Ubersuggest, etc.
Since this guide is for beginners, and (usually) they can't afford an expensive tool, I'm using Ubersuggest.
Because it is up to 90% cheaper than other premium tools with almost similar features.
Anyway, I believe that most of you don't need more features than what Ubersuggest has to offer.
Said that, of course, you can also use other tools if you want.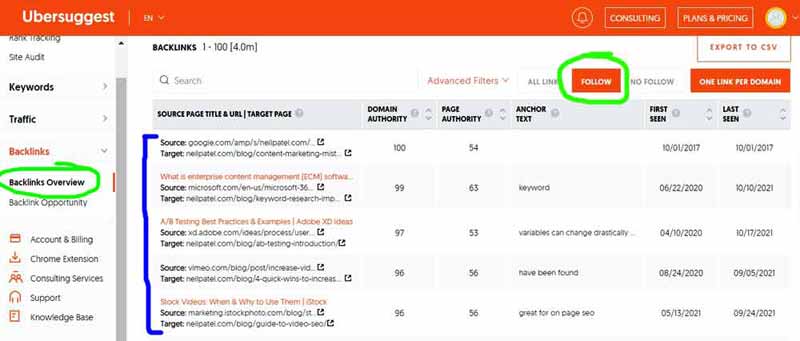 So far, we have found:
Top ranking page on Google.
Pages with the most backlinks.
With that much information, we are ready to move on to the next step (content creation phase).
However, if you want to go even deeper, here's the final tip.
3) Find The Most Shared Content Online
Again, it's really easy to find the most shared content online.
Use this nifty tool – BuzzSumo.
Pro Tip: By default, BuzzSumo sorts the results by the total number of shares. For more accurate insights, you can sort results by social networks that are more important to your industry/niche. Like this:
You can do this manually as well. But BuzzSumo will make your job a lot easier.
Still, want to go manual?
Here are the steps:
1) Visit the top blogs in your niche.
2) Open some recent posts on the blogs.
3) Check for comments and social-share counters.
4) List the pages with the most comments and shares.
For example, look at the number of shares this article got:
And, here are the comments that article received: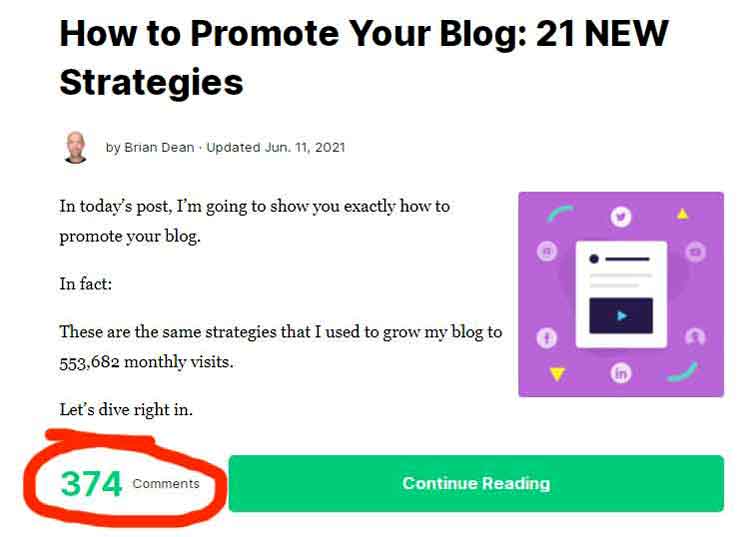 So, we found what kind of content is ranking on SERP.
We also learned what kind of content gets the most backlinks and shares.
Now it's time to create content that attracts backlinks.
2) Create Linkable Assets and Earn Backlinks
Obviously, content is the core of every SEO and content marketing strategy. But, for your content to get links and shares, it has to be awesome. So what are the linkable assets and how to create a linkable asset?
What are linkable assets? A linkable asset is a piece of content that naturally attracts a lot of backlinks.
But, how to determine in advance whether a piece of content will get links?
Fortunately, in the first section above we learned what types of content work best.
When you search for something on Google, what does it show you on the first page?
Google will show you different types of results.
First, it'll show top-ranking web pages. See what are the top 10 results? You'll notice that certain types of content formats attract the most links (and hence rank high on Google).
Second, depending on your search query, you'll get a mix of the following:
• Images
• Videos
• Ads
• Maps
• "People Also Ask" questions
• Related Searches
• Etc.
Based on both types of results, we'll create a "10x resource" – a piece of content that includes all or most of the elements shown in Google's first page results.
For instance,
If it shows images, include some high-value visuals such as graphs, Infographics, etc.
If there are videos, consider creating a short YouTube video and embedding it into your content.
Likewise, if there are maps, add your business to Google Maps or Google My Business (GMB).
Also, include answers to the "People Also Ask" questions (e.g., FAQ section).
Last but not least, don't forget to include "Related Searches" keywords in your content.
This way we'll create 10x better content than the existing pages.
It is important to note here that there is a slight difference between shareable content and linkable content. In this guide, we will only discuss linkable content.
Now it comes to the content formats that are proven to attract backlinks.
3) 6 Content Types that Attract the Most Backlinks
So, what is link-worthy content? What are the content formats that get the most links?
Below are the content types that are proven to generate the most backlinks, organically.
Let's discuss them one by one:
Format #1: Engaging Visual Assets to Earn Backlinks
Double down on the visual content. High-quality visuals are more valuable than ever.
When it comes to earning backlinks, visual assets such as infographics, illustrations, charts, videos, etc. are the best bet.
Visuals are proven to get tons of backlinks.
You can easily explain difficult concepts with diagrams and illustrations. Visuals are easy on the eyes. People love these.
Also, since creating visuals takes extra effort and resources, most people prefer to skip them. This means, if you create explanatory illustrations, you already have an edge over your competitors.
Now, you can create fancy infographics (which require more effort) or simple visuals such as graphs. It's totally up to you. Both work like crazy.
Format #2: Create Definite Guides and Earn Backlinks
Yes, there is no better way to earn links than publishing in-depth guides.
These include "why posts", "what posts", and "how-to guides".
For example, we recently created an in-depth how-to guide.
People search online for solutions. What better way to help them than a step-by-step how-to tutorial?
If you create an actionable guide that helps solve their problem, there's a good chance they'll link back to your page.
Format #3: Publish Data-Driven Studies and Surveys
Data-driven studies are link magnets.
Yes, statistics will drive the future.
In fact, according to a BuzzSumo study, 74% of marketers witnessed an increase in website traffic after publishing original research data. (source)
Marketers are always looking for data that can substantiate their points.
If you create original research data, you are ensuring that bloggers and marketers will link back to your content.
Here, I have no hesitation in admitting that creating original research reports is not a cakewalk.
It takes a considerable amount of resources and time to prepare such data. Many of the beginners don't have that kind of resources and/or skillsets.
Then what to do?
Don't fret, here's a cool trick for you.
Format #4: Curate Industry Statistics to Earn Backlinks
Even if you can/do not create original research data, create a comprehensive data report compiling all the statistics available in your niche/industry.
For example, here is one article focused on SEO statistics: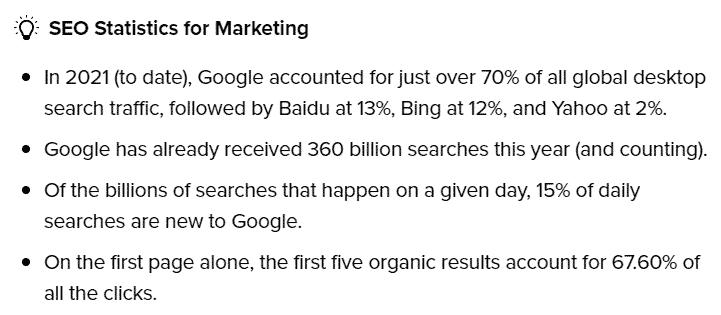 Yes, publish data from other people's studies, research reports, and surveys (and, don't forget to link back to them – see how link-earning works! – no pun intended).
Content Format #5: Long-Form Resources and List Posts
It's no secret that Google prefers useful, long-form content.
When you did a Google search, did you realize that most of the ranking pages have longer content? Usually over 3,000 words.
It's because, long, in-depth content provides desired information (value) to the reader.
So, create massive 10x resources. For example, recently we published an article on "30 Highest Paying Web Hosting Affiliate Programs".

Such articles are also called link bait or linkbait.
What is Linkbait: Linkbait is a content marketing strategy where you create in-depth resources specifically for link-building purposes.
It's relatively easy to create such content. You aggregate lists of items in a single article and present them in a digestible manner.
Pillar pages like this are full of information and earn links and shares organically.
Content Format #6: Other Linkable Assets
Apart from the content formats discussed above, there are a few more content types that are known to earn backlinks. These include:
1) Detailed Case Studies: Publish detailed case studies related to your niche/industry.
2) Interactive Tools: Develop interactive tools beneficial for your audience and (if possible, offer them for free. For example, Free DA/PA checker tool, free domain checker tool, calculators, etc.

3) Ego Bait and Expert Roundups: Ego bait is yet another proven content marketing tactic where you create a list of top influencers in your industry.
By providing positive reviews about them or their services, you are encouraging them to share and link to your content.
Examples of Ego-bait content are: "The 20 Best Content Marketing Companies of 2023" or "Top 30 Indian Bloggers That You Must Follow".
4) Content Round-Ups: Content roundups are similar to ego bait and resource pages. But it defers in that you create periodical round-ups aggregating the top content in your niche.
Again, you are politely (indirectly) asking them to share and link back to your post.
5) Interviews, Podcasts, Quizzes, and Surveys: When you interview someone, it's only natural for them to share the interview. Some of them may even link to your post.
After all, it is to their advantage. The same happens with quizzes and surveys.
Alternatively, if you give interviews to other people, it's a win-win situation. They get useful content for their blog and you get free promotion and backlinks.
So, these are some of the tried and tested content formats that earn the most backlinks.
4) Make Your Content More Engaging and Readable
1) Add visual appeal to your content.
Make sure your content looks good. People share the visuals more than anything else.
It has been proven time and again that visually appealing content gets more backlinks.
Elements like infographics, charts, and other visuals make your content more attractive.
Therefore, my suggestion is to add visual appeal to your content.
2) Make it readable.
If your content is hard to understand, they won't like it.
If they don't like it, they won't share it. Forget about getting backlinks.
So, make sure your content is easy to digest.
Fortunately, it's not that hard.
Here are a few tips:
a) Use plain and clear language. Use simpler words and phrases. Avoid using difficult jargon. Jargon makes it complicated.
b) Keep sentences and paragraphs short – really short.
Sentences: Up to 10 words is ideal. 10-15 works are ok. More than 15 words are too lengthy.
Paragraphs: Up to 3 sentences is ideal. In no case more than 5 sentences.
"People read long sentences quickly. They read short sentences more slowly." – Jacqui Banaszynski
c) Break your content with sections, images, banners, etc.
d) Use headings, sub-headings, bullets, lists, etc.
e) Use a larger font size such as 16-20 pixels.
f) Use easy-to-read fonts. The best fonts for the web are sans serif fonts like Arial, Verdana, Calibri, and Open Sans, etc.
3) Storytelling.
Make your story more engaging. Storytelling is one of the most important components of content marketing. It strengthens content marketing.
Stories enable you to convey the desired message to your target audience. Since you are narrating a tale, it engages your audience. Here are some basic storytelling tips:
a) Write in a conversational tone, as if you are talking to your readers (instead of talking at them).
b) Write in the first person. Stick to active voice.
c) Use a lot of action words (instead of hollow adjectives) where possible.
d) Write with user intent in mind. Use their voice. Answer their concerns, questions, and key pain points.
e) Emphasize benefits, not features. Features are boring. Instead, show them how will it (your content/solution) make their life easier? Include research data, statistics, quotes, etc. to justify your point.
f) Finally, make it factually correct. Provide authentic data to prove your point. This will make your content credible. And your audience will trust you.
4) Make your content findable.
Optimize your content for search engines.
I have mentioned this many times before.
But it's worth repeating: SEO-focused content marketing is POWERFUL.
Strategic use of relevant keywords is imperative.
Optimize your Page Titles and Meta descriptions with your target keywords.
Likewise, use them at the beginning of the page, a few times in the middle, and at the end of the page.
More importantly, don't forget to include long-tail key phrases a few times.
But don't overdo it. Keyword stuffing will hurt your SEO. It will also reduce the quality of the content.
5) Make it actionable.
Long-form content indeed works. But writing fluff won't work.
You need to publish actionable content.
Provide actionable strategies and techniques that are easy for your audience to follow.
One such example is this step-by-step content marketing guide for law firms:
Some examples of actionable content are:
• Step-by-step guides
• Videos, charts, and other visual tutorials
• How-to posts
• Case studies and well-explained real-life examples
• User guides
• Etc.
So you've published an amazing piece of "link-worthy" content that is engaging and focused.
What next?
Amplify it.
Which is the subject of the next section.
Promote Your Content: Amplification & Digital PR
Well, the primary purpose of this link-building guide is to learn how to earn backlinks through SEO content marketing.
But people will only be able to link to your content if they know it exists.
Yes, for this link-building strategy to work, you need to draw a few eyeballs to begin with.
After all, it has to start somewhere. Right?
Fortunately, getting that initial boost isn't that hard.
Here are a few easy steps to amplify your content.
1) Promote Your Content on Social Media
Once you publish your content, share your content on social media sites such as Facebook, Twitter, LinkedIn, Instagram, etc.
It's very effective. You'll get some initial views. Here is what I did recently. Just after I published a new blog post, I shared it on LinkedIn. It drew some views to the new article within hours. Absolutely effortless!
If the content is really 'awesome', it might even get some shares. Social proof is important as it influences other people.
Pro Tip: For more traction, allocate a few bucks ($50-100) for pay-per-click ads like Facebook Boosted posts or Google Ads.
2) Submit to Bookmarking Sites
Submit your content on relevant bookmarking sites. Participate on Q&A sites like Quora or Reddit and answer topic-relevant questions.
Even better, share your answers on social media platforms. This will further promote your content.
Pro Tip: You can automate this process by scheduling your social posts using Buffer or another similar tool.
3) Email Drip Campaigns
After sharing your content on social media, let your list know about this new article. Shoot an email newsletter.
If you have an email list, you'll want to schedule an email newsletter for your subscribers.
4) Email Outreach
Let them know. Send a personalized email to everyone you mention in your article.
They'll love it. Who doesn't like free promotions?
And hopefully, some of them can share it on their social media handles. Maybe some people can even link back to your content.
Pro Tip: You can also send a personalized email to influencers who you think might be interested in your content.
5) Syndicate Your Content
After doing all of the above, you will want to syndicate your content across different networks and platforms.
You can republish your articles on platforms like Medium or LinkedIn. In addition, you can reuse (aka repurpose or recycle) your content for platforms like Pinterest, YouTube, SoundCloud, Reddit, SlideShare, Quora, Mix (formerly StumbleUpon), etc.
This will help you reach a wider audience, thereby improving your online exposure.
How do I repurpose content in SEO and content marketing?
What does repurposing content mean? Repurposing content means reusing existing content. Repurposing content is also known as content recycling.
Content marketers use this strategy to increase the reach of their content and get more site traffic. You can do this in two ways:
1) By changing the content format: For example: Turning a blog post (text) into infographics (visual diagram).
2) By changing the target audience: For example: Converting a long-form informational content targeted to beginners (Awareness Stage) into a series of email newsletters for subscribers (Consideration Stage).
By repurposing content you are looking for new ways to reuse your existing content.
And, finally, find the link-building opportunities that fit your content.
6) Build Backlinks
This is the primary purpose of this link-building guide.
Once you have completed all the steps above, you are ready to build high-quality backlinks through content marketing.
I have handpicked some of the most effective link-building strategies for you. These are the same strategies I use to build relevant links for my web properties. These are:
1) Broken link building: Learn how to build authority backlinks using the broken link method.
2) Resource page link building: Read our guide to resource page link building.
3) Guest posting: How to do this? Here is a detailed guide on guest blogging.
4) HARO and #journorequest: Learn how we land authority links with HARO.
That's all on how to earn backlinks with content marketing.
To your blogging success, until next time!
By Meira Rawel
Meira Rawel is a Content Marketing Strategist at Web Content Edge. She has over 10 years of experience in content marketing and SEO. With a passion for creating engaging online experiences, Meira is instrumental in developing content marketing strategies for our clients that drive organic traffic, improve user engagement, and increase conversion rates.