This is the definitive guide to guest blogging.
In this guide, we'll learn what guest blogging is, how to do guest posting and best practices, and how to leverage the power of guest blogging to build niche-relevant authority backlinks.
Guest Blogging Fundamentals
What is Guest Blogging?
Guest blogging is the act of writing a blog post for a different website other than your own. It works the same way as if you invite someone else to write a blog for your website.
Guest blogging or guest posting is a brilliant way to collaborate within the industry. On the surface, it may seem like you are benefiting your competitors. But in reality, you are getting even more in return by helping others.
You can tap into their audiences, establish yourself as an authority in your niche, and build backlinks to your website.
If done properly, guest blogging is one of the best ways to climb up the Google search rankings quickly (with the help of authority backlinks).
So how to leverage the power of guest blogging to your advantage?
Benefits of Guest Blogging
Why should you do guest blogging?
Guest blogging offers some notable benefits. These include:
1) Brand awareness: Guest blogging is one of the fastest ways to generate buzz for your brand. By tapping into your competitors' audience, you're instantly creating traction.
It becomes easy to lead these readers towards your funnel. Provided you are niche-based guest posting and your target audience is common.
2) The network effect: Through guest blogging, you come in contact with the influencers in your industry. Apart from the readers, influencers also come in contact with your content.
Once they are in touch, you can leverage that relationship to spread the word about your brand. Influencers will help you use their clout to bring your brand in front of their audiences as well.
3) A surge in social media shares: Guest posting can generate social media shares. It helps you grow your social media following. If you can come up with viral content, you can expect an exponential online reach and engagement.
4) Build authority: If the followers don't trust you, you won't have any authority over what you sell online. With guest posting, you establish yourself as an industry expert or thought leader.
If you get a chance to post on large publications, people will think that you are saying something valuable otherwise these websites won't allow you to post. You increase your credibility in the eyes of your readers. And slowly but surely you climb the ladder of authority.
5) Get authoritative backlinks: Websites allow at least one backlink to your website. This link makes your website more valuable.
If you are new to the game, you need tons of backlinks to rank on Google. Guest blogging is one of those ways to acquire relevant backlinks from trusted websites.
Backlinks improve your SEO performance. It is an open secret, after quality content, all you need to rank high on SERP is backlinks.
6) Get feedback: If you target a niche, you'll receive valuable feedback from your readership. It will help you to build your future content plan. It simply makes you a better writer and a marketer.
Apart from these, you can also reap many other benefits from guest blogging. These include new partnerships and job offers, more referral traffic, leads, sales, and customers.
Guest Blogging as a Link Building Strategy
As we just saw, guest blogging is one of the best link-building techniques. But the question is how to build backlinks with guest blogging. And, how to scale the process.
Here is a step-by-step guide to using guest blogging as a link-building tool.
There are FIVE steps to follow:
1) Find guest blogging targets
2) Filter out bad ones
3) Pitch your gust blog ideas
4) Write your guest post
5) Follow up
Step #1. Find Guest Blogging Opportunities
How to find blogs that allow guest blogging?
Below are some of the most effective ways to find guest blogging targets. Let's look at them one by one:
1) Take Advantage of Premade Lists
This is by far the easiest way to find guest post targets.
Why waste hours researching. Instead, look for the list of top guest posting sites prepared by others.
All you have to do is search for lists on Google. Use terms like "list of guest posting sites" or "top guest posting sites" etc.
Many bloggers have already compiled lists of top guest posting sites that accept guest posts. For example, here is one such list of guest posting sites.
This is particularly useful for beginners as they are less likely to get the chance to guest post on big sites like The New Yorker or Forbes.
2) Use Google Advanced Search Operators
The first and best place to find guest blogging opportunities is Google. Yes, this is the best method to find the sites that allow guest posting.
You can use various search operators related to guest blogging to come up with related results.
Let's say you are a lawyer in a law firm. And you are looking for guest post opportunities. Simply go to Google search and type – law firm "guest post." Remember to use inverted commas for the word guest post.
Look at the screenshot below:
Note: All probable Google search operators are given at the end of this article.
3) Use "Featured on" Sections
Most bloggers contribute to other websites. And, they like to show it too.
Great!
You can take advantage of this.
How?
• Visit some of your competitors or other popular sites in your niche.
• Look for their "As Featured In" section.
• Find out who they've written for in the past.
• These are your new guest posting opportunities.
Alternatively, you can use Google search operators like:
Keyword + "I've Been Featured On"
Keyword + "Sites I've Written For"
Etc.
4) Use Google Reverse Image Search
This is another way to get tons of guest posting targets.
All you have to do is:
#1: Find a popular blogger in your niche (who writes a lot of guest posts).
#2: Copy the URL of their profile picture that they use into their author's bio.
#3: Put that URL into Google's reverse image search.
If you are not familiar with Google reverse image search, here are the steps to follow:
For example, Adam Enfroy is a blogger who does a lot of guest posting. I found one of his guest posts on a high DA marketing site.
Once on the page, I right-clicked on the headshot provided in the author bio and selected "Copy Image Address".

Next, open Google Reverse Image Search (images.google.com) and click on the camera icon.

Next, select the "Paste Image URL" tab and enter the copied URL in the search box:
Now you have a list of blogs where he has guest-posted in the past like this: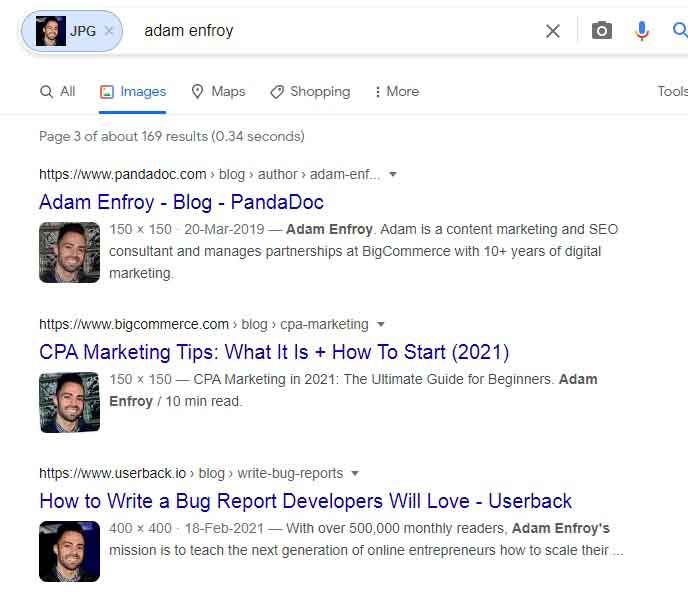 Since these sites have previously allowed guest posting, they are more likely to accept your guest posts as well.
5) Research Your Industry
You need to spend time studying and analyzing the industry for which you want to write guest blog posts. Then, you have to come up with a list of websites that are in your industry and are looking for guest bloggers.
No doubt, it takes a lot of time. A relatively efficient way to cut down on your effort and save time is to:
Find similar sites. You can use free tools for this.
For example, I used Alexa to find websites similar to thespruce.com.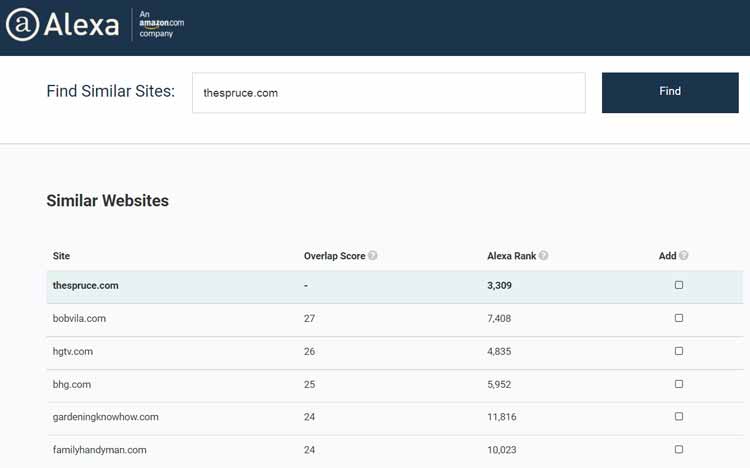 You can also use other tools such as Similarweb or Ubersuggest to search for similar websites in your niche.
6) Reverse Engineer Competitor's Backlinks
Check your competitors' backlinks. Find out where they are getting links from.
You can use any SEO tool to search for your competitors' backlinks. Such as Semrush, Ahrefs, Ubersuggest, etc. There are a few free SEO tools as well.
These backlinks will lead you to websites that have provided guest post links to your competitors.
Make use of these backlinks and generate a list of websites to pitch your guest blogging ideas.
For this example, I will use the Ubersuggest tool to check the backlink profile of neilpatel.com.
Open the Ubersuggest and enter a domain name. Then click on the backlinks option. You'll see all domains linking to this site: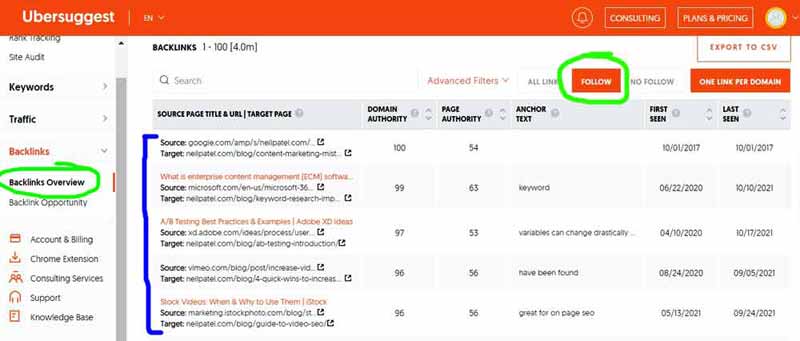 Step #2. Filter Out Bad Ones
To guest post, you will need a site that accepts your articles.
But the problem is that not every site that allows guest posts is necessarily relevant to you.
You cannot start building backlinks by guest posting on every site you come across. This kind of blind approach will do more harm to your SEO than benefit.
Ask yourself this question: Is the site suitable for guest posting?
The first step in building links with guest blogging is to choose where to publish your guest posts and where not.
There are a few parameters that you need to consider before selecting a site for guest posting. You should only guest post on sites that meet these criteria. These include:
1) Niche relevancy
2) Authority
3) Link spam score
1) Niche Relevancy:
Niche relevancy is the first condition.
Why on earth someone wants a link from a "dog food blog" if they run a Microsoft Excel blog like this Chandoo.org. (There may be some exceptions when two niches coincide at a point. But these are just exceptions. Period.)
Hope you got my point.
Therefore, only look for sites for guest posting that are either in your niche or related to your niche.
For example, if you manage a "running blog," you'll either want to guest blog on other "running blogs" or sites related to topics like fitness, workout gear, etc.
2) Authority:
A single backlink from a high-authority domain can be more effective than 1,000 links from low-value sites.
In other words, the higher the authority of a linking domain, the more powerful the backlink will be.
So it is only natural that you'll want to guest post on authority sites.
But the question is, what is an authority site?
An authority website is one that:
• Drives tons of traffic.
• Is trusted by users and industry experts.
• Is trusted by search engines.
• Has thousands of quality backlinks.
Therefore, while you might want to approach as many top websites as possible in your industry, the best approach is to select a few websites that have high authority in your industry/niche.
You can use any SEO tool (free or paid) to find out the DA, backlink profile, and organic traffic of a website. Here, DA stands for domain authority.
Now I will (to show you) use different tools to check DA and traffic respectively.
First, let us check DA.
For this, I'll use the Moz Domain Analyzer SEO tool.
Head over to moz.com. Enter the URL of the website whose 'DA' you want to check. Then click on Analyze domain button.
For example, below I checked the domain authority of newyorker.com:
Next, let's find out how much traffic the site is getting.
For this example, I used the Similarweb tool.
Open similarweb.com and put newyorker.com into the search box provided. The tool will show traffic details for this site like this:

3) Link Spam Score:
The link spam score is a Moz metric that tells the quality of a site's backlink profile. It's measured in percentage (%).
The lower the site's spam score, the better.
You can use the Moz tool to check the link spam score of a website. Many free tools are also available. You can use any of them.
I used the Moz analyzer tool for this example.
Look at the screenshot above. The New Yorker's spam score is 1%, which is excellent.
Let's take another example:
This site has a spam score of 40%. It means a poor backlink profile. You'll want to avoid links from such sites.
To sum up,
You'll want to make sure that you only pitch sites/blogs that:
• Are closely related to your niche
• Have high Domain Authority (DA) or Domain Rating (DR): DA/DR of 40+
• Have low Link Spam Score: Aim for 3% or lower
• Drives a significant amount of search traffic
Yes, search traffic is an important parameter. Check if the site is getting search traffic. How much?
A high DA domain with little or no organic traffic is a clear indicator that something is wrong with the site. The site is probably spammed, and therefore, punished by Google. Avoid such sites at all costs.
This way you can easily determine whether a site is suitable for guest posting.
Step #3. Pitch Your Guest Blog Ideas
So you have a list of blogs where you want to publish guest posts and build backlinks to your site.
What next?
Reach out to them.
For that, you will need their contact details.
If the site is small or a personal blog, you can directly contact the owner or administrator of the site.
However, if the site is huge, pitching to the owner does not make sense. You see, they are busy creatures. They don't have time to entertain guest posting pitches.
Then, what to do?
You need to contact the concerned person such as the editor or a specific person delegated for the role.
I heard what you said: That's OK, but how to get their email address?
1) How to Find Their Email Address
You're going to pitch your idea to a person, not a site. But, getting the correct email address can be a hassle. Fortunately, there are a few tools that make our job quite easy.
1) One such tool is Hunter.io.
If the site is individually managed such as a small site or a personal blog, Hunter.io is a perfect tool.
The process is quite simple.
Simply head over to Hunter.io and enter a domain into the box provided.
This tool will instantly show you all the email addresses associated with that domain.
Cool. Right?
But what if the site you are targeting is huge? Finding specific emails from such sites would be a huge headache.
Then?
2) Use another tool called VoilaNorbert.
Unlike Hunter.io, with VoilaNorbert.com you enter the person's name and their domain address.
And the tool will show you the email address of that person:

What next?
2) Email Your Pitch
Now that you have the email address of the person you want to connect with, it's time to reach out to them.
But sending a one-for-all script won't work. They get hundreds of such emails every day. They are used to them and your message will be in the trash immediately.
Here's How You Pitch Your Blog Post Topics That Don't Get Ignored
Follow the steps below to create a pitch that will get you a guest blog opportunity.
1) First, know them before you reach them.
Yes, you have to know the publications. Visit their sites. Read some of their articles and find out what they blog about. Who is their target audience? What are their needs?
Once you go through most of the posts on the website, you'll start to see some missing topics.
And, find out what topics they haven't covered before.
Fill in the blanks. See where you can fit your content. You can craft your pitch around such topics.
Editors are always on the lookout for such materials. If you know the topics for your guest post (that matches their specific needs), you can easily pitch your ideas to them.
And the chances of acceptance will be higher.
2) Follow the guidelines.
You should always follow the guidelines of the website to which you're pitching. If you have a great pitch but you fail to follow the guidelines then it will end up going into the trash of the editor's email.
3) Approach directly.
Get straight to the point with the editor of the owner of the website. Don't overwhelm them with unnecessary details. Just show them the outline of what value you can bring.
Editors and owners of websites are busy, you need to make it easy for them. The faster you make an impression, the better.
4) Finally, send the personalized pitch to them.
Send a super personalized email.
Here's one of my best-performing outreach emails:
Sample Guest Blogging Pitch Script:
Subject: Hey [Their First Name] // Content Writing and Link Building Opportunities – [Your Name] from [Your Website/Company Name]

Hi [Their First Name],

My name is [Your Name] and I'm the [Your Job Title] at [Your Website/Company Name].

I'm reaching out because I love [Their Blog/Site Name].

I enjoyed your post a lot [Mention Their Article Title/URL]. It resonated with me because [Mention the Reason].

I was curious if:

1) You'd like to participate in link building. I write ['N' Number of] guest posts per month and would be happy to link to your site in my content. 2) You allow guest posting on your blog.

I'd love to contribute to your awesome blog.

I've been brainstorming a few topics that I think your audience will find valuable. If you're interested I'd be happy to share those ideas.

Look forward to hearing from you,

Cheers! [Your Name]
If your pitch is personalized and the guest post ideas are highly relevant, you can expect a favorable response, although this is not guaranteed.
If your idea is accepted by the guest-post target site, it's time to write your guest post.
Step #4: Write Your Guest Post
Create link-worthy content when the opportunity arises. Yes, you need to create content that stands out. Your readers will reward you for a fantastic piece of work.
In return, the website where you guest post will invite you again to write more for them. This will create a chain reaction leading to better opportunities and better results.
Guest blogging is win-win for both the host and the guest. You have to make the best of it.
Here's how…
There are a few things to consider when creating link-worthy content.
1) Create eye-catching headlines.
If your headline is unattractive, no one is going to read your article. No matter how brilliantly you wrote your piece, a great headline is what matters.
For this, there are several headline analyzer tools that you can use. Some are free. Use then to create a stunning headline.
Let's look at some of the examples of headline generators and analyzers below.
The first screenshot is from portent.com. You simply need to put a single word to come up with headline ideas. Check out the screenshot below for the word "guest blogging".
To generate more ideas simply click on "see another title".
Once you have a couple of different headline ideas you can test them in one of the headline analyzers available for free.
Check out the screenshot below of sharethrough.com's headline analyzer.
The above screenshot shows the strengths, and provides some suggestions for the headline "top 10 guest blogging tips." You can tweak your headline with this free tool.
You can ask the website to place your bio so that readers can follow back to your brand page. This way you'll create backlinks that are valuable for your online enterprise.
2) Create in-depth guides.
Google likes long-form content. Therefore, most of the sites that allow guest posts prefer in-depth articles. Depending on the target site, aim for anywhere between 1500 to 3000 words.
Let me explain: If the site is relatively smaller, you can write an article of about 1500 words. If the site is massive, shoot for a detailed (2500+ words) guest post.
3) Make it actionable.
Don't fill your article with fluff just for the sake of lengthy content.
Instead, create step-by-step actionable guides that are easy to follow for their readers.
Add visual appeal to your content. Include images, screenshots, flowcharts, graphs, etc. You can provide statistics, facts, & quotes to validate your points and claims.
Some examples of actionable content types are "how-to guides" such as "25 effective ways to increase social media followers", "10 ways to create killer content headings", etc.
4) Make it easy to digest.
Make sure your guest post is easy to read and understandable.
You can easily make your articles digestible. Follow these tips:
• Keep your sentences short. Avoid complex and compound sentences.
• Similarly, make your paragraphs short (no more than 3-4 sentences in a paragraph).
• Breaks long content with images, sub-headings, and bullets.
• Write in active voice.
• Avoid the use of difficult jargon.
5) Linking and interlinking.
Link to a handful of other articles on their site in your guest post. Internal linking adds value to your content and is great for SEO.
It'll show that you actually care about them and their audience. Which is great for a long-term relationship.
Most important, don't forget to insert at least one contextual backlink in the post.
Make sure it does not look like a forced one. It should fit naturally into your content. Use your common sense.
Adding contextual links is important for two reasons:
1) These are more powerful, and
2) These look natural and don't harm your site's SEO
Following Matt Cutts' statement, it seems like Google ignores the author's bio links. If you do it massively, they may flag it as spam, which will hurt your site's rankings.
Step #5: Follow Up
So your guest post got published.
Great.
What next? Follow up.
Yes, you should be actively following it up to get the most out of your guest posts.
1) Don't ignore the comments.
Once your post is live, you need to go through every comment that you receive on your guest post.
If possible, reply to those comments. You are creating a relationship by engaging in conversation with your readers.
Don't hesitate to answer your readers' most crucial queries. If your readers have any questions, it's a great opportunity to show your authority in that matter.
2) Analyze the performance of your guest post.
There is no use in writing guest posts if you're not analyzing the performance. You need to keep a sharp eye on what works and what doesn't. If your guest blogging is not working then you need to take steps to rectify it.
You can use online services like brandmentions.com to find out how your readers are reacting to your guest post.
For example, I used the tool to detect #iphone13 brand mentions. Check out the screenshot below for search results.
Focus on the latest mentions section of the screenshot. You can purposefully use a hashtag for which you want to have traffic to your website. And later on, you can check for yourself as to which guest post has brought in the highest number of mentions.
3) Share your guest post on social platforms.
Promote your guest post on social media sites. Your post will get some initial eyeballs. It may also get some shares and backlinks.
Which, in turn, makes your backlinks more powerful and establishes you as an authority in the niche.
A win-win situation.
Guest Blogging Best Practices
1) Become a Good Writer
To perform best to your abilities as a guest blogger, you need great writing skills. Remember that you are competing against other industry veterans.
You need to produce high-quality content that catches the imagination of your readers. It leaves an everlasting impact.
For that, you need to brush up on your grammar skills. Learn to write for the web. You can use tools like Grammarly, PaperRator, and the Hemingway app to hone your writing style and improve your readability score.
2) Amplify Your Guest Posts
Once your blog post is accepted, you should now focus on promoting your piece. You can come up with a promotion strategy for your content.
Promote your content on social media platforms to gain more social shares. You can make use of influencer marketing to push your guest blog to their readers as well.
For example, if your content is focused on "career-building" then you can consider LinkedIn as a tool to promote your guest post. And ask LinkedIn influencers to promote your post.
3) Learn from Your Mistakes
To learn from your mistakes you need to first analyze the performance of your guest posts. Study the performance and fix any loopholes that you may find. Don't argue with your readers who disagree with you. Instead, learn to accept criticism and do a better job next time.
Guest Blogging Limitations
1) Guest posting is a time-consuming process.
If you are looking for short-term gains then guest blogging isn't for you. Getting results from guest blogging takes time. You need to put a lot of effort into generating sizable traffic to your site.
Many things need to come together to create a successful guest blog post. You need to do thorough research before you can come up with blog post ideas. Next, you need a brilliant promotional strategy that can push your content further.
You need to have realistic goals otherwise, you might get disappointed.
2) Guest Blogging is an ongoing process.
If you decide to use guest blogging as a main tool to generate brand awareness, you'll end up doing this regularly. Writing one blog post won't create the desired results.
You need to come up with hundreds of such guest blog posts to create a buzz around your brand. If you don't fully understand guest blogging, you'll lose valuable resources.
3) Excessive guest posting can harm your rankings.
Yes, you heard that right. Excessive guest posting on several websites can harm your search rankings. You have to approach guest posting in stealth mode. Doing too much of it too quickly can lead to negative results.
If you go for a low-hanging fruit, which is an easy website for guest blogging, you'll negatively impact the rankings of your website.
4) Google is smart.
Many guest blogging websites allow for paid guest blogs. And if Google catches you buying guest post backlinks, it can penalize you. So, refrain from paying for guest posts at all costs.
5) Ignoring your own blog.
In the process of guest blogging, bloggers forget to update their own websites. If you write too many guest posts, you tend to forget about your brand. One solution is to write in a series. So you can write part 1 on a guest website and the remaining on your own blogs/websites.
6) Guest blogging isn't competitive, it's hyper-competitive.
Guest blogging is a popular strategy to build backlinks and gain Google search rankings. As a result, it has become a hyper-marketplace for bloggers. If you are not in the top 20% of the bloggers in your niche, you won't gain too much out of it.
Google Search Operators:
Below are all probable Google Search Operators you can use to find guest post opportunities:
inurl:guest-post
inurl:write-for-us
allintitle: [Keyword] + guest post
Intitle:keyword "write for us"
Intitle:keyword "guest article"
Intitle:keyword "write for us"
[Keyword] inurl: "guest blogger"
[Keyword] inurl: "guest post"
[Keyword] "guest post"
[Keyword] "write for us"
[Keyword] "guest article"
[Keyword] "want to write for"
[Keyword] "contribute"
[Keyword] "contribute to our site"
[Keyword] "become a guest blogger"
[Keyword] "become an author"
[Keyword] "become guest writer"
[Keyword] "become a contributor"
[Keyword] "articles wanted"
[Keyword] "guest posts wanted"
[Keyword] "guest poster wanted"
[Keyword] "accepting guest posts"
[Keyword] "suggest a post"
[Keyword] "send a tip"
[Keyword] "tip us"
[Keyword] "submit a tip"
[Keyword] "submit guest post"
[Keyword] "submit an article"
[Keyword] "submit article"
[Keyword] "submit content"
[Keyword] "submit your content"
[Keyword] "submit post"
[Keyword] "submit news"
[Keyword] "looking for guest posts"
[Keyword] "my guest posts"
[Keyword] "places I've guest posted"
[Keyword] "the following guest post"
[Keyword] "guest post opportunities"
[Keyword] "guest posting guidelines"
[Keyword] "contributor guidelines"
[Keyword] "guest post by"
[Keyword] "guest post written by"
[Keyword] "guest author today"
[Keyword] "This post was written by"
[Keyword] "guest post courtesy of "
[Keyword] "guest author"
[Keyword] "contributing writer"
[Keyword] "guest blogger"
[Keyword] "guest column"
Hope this article has helped you to gain a thorough understanding of guest blogging. If you have any questions let's know in the comments below.
By JD Bhatala
JD Bhatala is a Content Marketing Strategist with over 15 years of experience. He is the co-founder of Web Content Edge where he helps online businesses gain visibility and increase traffic, leads, and sales. Catch him online at Twitter or LinkedIn.