Broken link building is one of the best link-building tactics. Digital marketers use this tactic to build niche-relevant authority backlinks.
In this link-building guide, I'll walk you through every step of the broken link-building tactic. I'll cover:
1. What is broken link building?
2. Why should you do broken link building?
3. How to find broken link opportunities?
4. How to reach out to and convince site owners to replace those dead links with your links.
5. Broken link-building best practices.
6. Broken link-building limitations.
7. Broken link tools and more.
What Is Broken Link Building?
Broken link building is the practice of finding the dead external links on other websites in your niche and getting them replaced with your working links.
Yes, for this to work, you will only want to target sites in your niche.
Building backlinks with broken links is not simple, especially when you want to do it at scale. But there are tools out there, which will help you to speed up the process.
How Effective Is Broken Link Building?
Broken link building in itself is not a strategy, it's a tactic. It's a subset of your link-building strategy. But by finding opportunities for broken link building, you'll have a much better place in Google search rankings.
By doing it regularly, you'll come across some of the best link-building opportunities for your web properties.
Here are some of the quick points in favor of broken link building:
1) Building links from the high authority pages. If you do guest posting, the actual page authority (PA) of a new post is almost zero, even if the domain authority (DA) is higher. But with broken link building you are instantly getting backlinks from the pages that already have high page authority.
2) Contextual backlinks. You will get a chance to insert your links inside relevant pages with the target audience already in place. Such editorial backlinks are the most valuable ones.
3) Edge over your competitors. In this tactic, you are stealing links that previously pointed to your competitors. You can push your own content on that particular page for SEO gains.
4) Better conversion rates. It's believed that broken link building has a better conversion rate than other link-building game plans. It's because you are helping site owners fix broken links on their sites. All you have to do is to convince them that your content is better than those of dead link pages.
Besides these, broken link building effectively complements the larger link-building strategy of your brand.
3 Steps to Broken Link Building Success
There are three steps involved in broken link building:
1) Find broken links from similar websites in your niche.
2) Creating content for broken page replacement.
3) Reach out to target site owners and convince them to replace those broken links with your own working links.
Let us discuss the steps one by one:
Step #1. Finding Dead Pages That Have Live Links
Before you can start with a broken link tactic, you need to understand how to find such opportunities first. Anyone with a basic understanding can find a couple of broken links. But what about 100 broken links?
You need to look for dead pages with 404 errors. Almost every single website out there has such pages on their websites. You need to find out such pages that previously were linked to.
Broken link checker to the rescue.
Check My Links
Check My Links is a Chrome extension.
This is my favorite tool for finding broken links on a page. Best of all, this nifty tool is free to use.
First, install the extension.
Next, open a target page on your Chrome browser.
Check My Links will report all the links on that page including the dead links:
Let's use another broken link checker tool.
The above screenshot is from ahrefs.com.
Once on ahrefs.com, click on the broken link checker tab to find broken links. To begin with, you can choose one of your competitors to start the process of broken link building.
In the screenshot below you can see the page results of huffpost.com.

Check out the "404 Not Found" under the heading "anchor and backlink". That's what you should concentrate on.
You can also combine your search with other tools such as SEMrush. The same link produced the results shown in the screenshot below.

In the above screenshot are over hundred broken backlink pages that can produce great results for your broken link tactic.
Before you begin the process, you should have a list of your competitors handy. You should focus on your competitors that are active (and not offline).
Also, head over to Google and search your primary target keywords.
Let's move through an example. In this example, we are going to use a couple of primary keywords in the niche of digital marketing.
For this example, let's take a test keyword: digital marketing trends.
Now, we'll search these main keywords on Google. Look at the results page below.
The top result on the search page is iide.co.
So, if you are in the digital marketing space, you'll put iide.co in any of the backlink analytics tools to search for broken link pages.
Let's put this domain on one of the tools.

The above screenshot shows you all the broken links on the website.
To further enhance the results, click on 'indexed pages' on the SEMrush backlink tool to find all the broken pages with 404 errors.
The results that you see in front of you are all the pages that you will want to target for your link-building campaigns.
The above results are just from one website.
Imagine running through a couple of your competitor domains or a few dozen of them.
Use the export function to export all of these links into your working file.
Remember to target websites that have good authority in your domain. A lot of these results will have a low domain authority score, so you need to weed them out.
Step #2. Recreate a Replacement for The Dead Links
After you have a list of broken links on target websites, the next step is to prepare a replacement for those dead links.
You can do it in two ways:
1. If you already have published content similar to broken (dead, 404) pages, offer the same as replacement link.
2. If you don't already have such material, create similar content for a 1:1 replacement. You'll want to recreate the broken content.
How to Recreate Dead Content?
For this, the first thing you need to know is what content was on that broken page.
Thanks to the Wayback Machine, you can do this easily.
Head over to archive.org and pop the dead page URL into the search box provided. Wayback machine will show you a snapshot of the page when it was live with some content on it.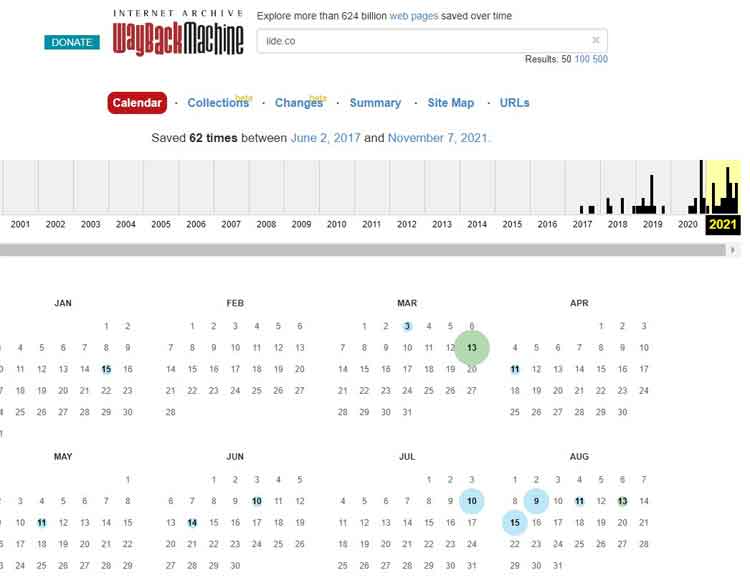 You can select the date from the scroll above and select the date or time from the calendar below. When you click on the calendar you will instantly see a snapshot of that page from where you can know what content was there previously.
It's not uncommon to stumble upon a page where the CSS is not loaded. But you can still read the text on the page. And it should help you to come up with your content for that page.
Next, you need to create a brilliant piece of work for that particular link or find similar content on your website. You need to convince the website owner of the quality of your content so that they will replace it with yours.
Finally, it's time to reach out to the website owner.
Step #3. Reach Out for Broken Link Building
By now you have compiled a list of dead links. You have also created content for replacement. Now it's time to reach out to the target site owner.
But you need their email addresses for reaching out to the respective website owners.
You can use tools such as hunter.io or VoilaNorbert to find email addresses associated with any domain.
For example, I used hunter.io in the below screenshot.
Simply enter the domain you are trying to find email addresses for. This tool will show the emails of everyone connected to the website.
Another possible way to find email addresses is to check out a website's author or bio page. Normally, websites have such details displayed on their blog or home page.
Before you start sending your emails, try to find out the name of the person to whom you address.
You should work on your email before you send them out to your prospects. Don't use templates (or readymade scripts) taken from other websites.
You can learn from inspirational email examples. And build your custom email and use it again and again.
Don't directly tell them to replace the link with your content. It might sound rude to them. Instead, do it indirectly. Suggest that they might gain something by replacing the broken link with your link or content.
Broken Link Building: Risks and Limitations
1) It's a Time-Consuming Affair
Building up your ranking with broken link tactics is a time-consuming activity. If you are in this game for the short term then you will not see the kind of results that you want to see.
You have to put in a lot of resources and time to see tangible effects on your website rankings.
Building broken links is like running a business. It's highly advisable to hire a team or at least have a person who can do this for you.
To think you can do this on your own while running a business, might not seem like a good idea.
2) Google Penalties
The biggest problem with broken link building is the risk of getting penalized by Google. If you don't want to get penalized then you should consider best practices to avoid any such action by Google.
To keep yourself updated you should follow Google search engine optimization updates and join forums to keep yourself updated. You should refrain from any black-hat broken link-building strategies.
Also, limit the number of websites that you can get for broken link opportunities. If you misuse and bombard your link everywhere, you might run the risk of getting penalized.
The best way to avoid penalization is to remain consistent with your approach and do it regularly on a short burst at a time.
Broken Link Building Best Practices
1) Be consistent
The number one best practice that you can follow for broken link building is to remain consistent in your approach. It's a long-term process and you shouldn't lose hope if you don't see quick results.
A single broken link can't fetch you the type of results that can propel your rankings on Google. It's a game of patience and you have to put considerable time and effort to reap results.
2) Follow the rules
When you're playing the broken link-building game, you have to follow the rules of the game. Remember to not get penalized by Google. Follow Google Webmaster guidelines and best practices, and stay out of trouble.
3) Move with caution
Don't approach shady websites for broken link building. This also means you shouldn't use black-hat strategies. Stay away from websites that ask for or any payout. Google can easily track such links and will penalize you.
You should also consider limiting your outreach to websites only in your industry. If you spread out to several different niches, it will indirectly harm your rankings.
Broken Link Building Tools
1) Broken backlink finder tools.
1. SEMrush free backlink checker (link)
2. Ahrefs free backlink checker tool (link)
3. Check My Links Chrome Extension (link)
2) Outreach tools.
1. Hunter.io (link)
2. VoilaNorbert (link)
3. Google search operators
3) Content creation tools
1. Canva.com (link)
2. Hemingway app (link)
3. Grammarly (link)
4. Copyscape (link)
5. coschedule.com Headline analyzer (link)
6. Wayback Machine (link)
Hope this article has broken your myths and doubts about broken link building. Have you got any suggestions? Do let us know in the comments.
By JD Bhatala
JD Bhatala is a Content Marketing Strategist with over 15 years of experience. He is the co-founder of Web Content Edge where he helps online businesses gain visibility and increase traffic, leads, and sales. Catch him online at Twitter or LinkedIn.