Beginners often ask: Can I make money blogging?
The answer is, yes. Blogging income is real.
While it can be a hobby for some, there are thousands of bloggers who make a living from blogging. Some even make 6- and 7-figures from their blogging business.
Yes, blogging is no longer just a hobby, it's a serious business. You need to treat it like a startup. That means you need a monetization strategy — how you are going to earn money from your blog down the line.
So, do you run a blog? Or planning to start a new blog and want to be sure beforehand how you will monetize it – you have come to the right place.
If you have not started a blog yet, please go through these steps and set up your blog first (the process is really easy to follow and you can start blogging within 30 minutes).
Once your blog is up and running, you are ready to follow the following steps to monetize your blog.
There are several ways to monetize your blog. In this article, I'll explain some of the proven income streams that you can add to your blog. These are time-tested revenue models that most bloggers use to make money from blogging.
Finally, I'll show you some solid strategies that you can follow to scale your blog – in terms of traffic, engagement, conversion, and earnings (even without a traffic increase).
So, let us learn how to make money blogging this year.
Make Money Blogging: Multiple Income Streams
There are different ways that bloggers make money online. The most popular blog monetization models include:
#1. Affiliate marketing
#2. Advertising
#3. Sell Services Online (Freelancing)
#4. Sell Digital Products
#5. Sell Online Courses
#6. Offer Consulting or Coaching Services
#7. Sell Sponsored Blog Posts
#8. Get Public Speaking Gigs
#9. Create a Job board
#10. Other Income Streams
Let us understand each income stream in detail:
#1. Affiliate Marketing
Affiliate marketing is our favorite blog monetization method. We promote both physical and digital products on our blogs and found it very profitable compared to other income streams.
Even if you're just starting out (and don't have much traffic to your blog), you can still make extra income from affiliate marketing.
What is affiliate program?
Affiliate program is the referral program where you promote other companies' products. In return the companies pay you a fixed commission for each qualified referral.
How it works?
You create content around an affiliate product (or service) and put your affiliate link (unique ID) in it. When someone clicks on your affiliate link and makes a purchase, you'll get a commission.
Affiliate marketing is quite easy. Create high-value content around affiliate products (e.g. product reviews, buyer guides etc.) and strategically recommend them to your audience.
Because it is very lucrative, affiliate marketing is very popular among bloggers.
You may ask: How much can I earn from affiliate marketing?
Actually there is no limit. Affiliate marketers make anywhere from a few hundred dollars to hundreds of thousands per month.
Don't believe me? Here is the proof:
Ryan Robinson makes 6-figure income from affiliate marketing. You can check his income report here.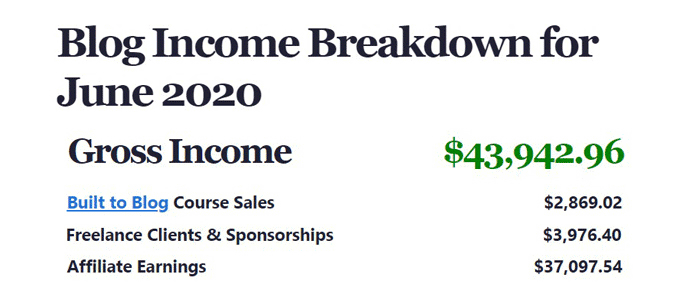 This is just one blogger. There are many more bloggers who make tons of money by promoting affiliate products.
There are numerous referral programs available. Some affiliate programs are from individual companies and some are run by affiliate networks.
Join relevant affiliate programs from reputed companies and start earning extra income every month.
To get started, you can join the most popular affiliate programs and networks including Amazon associate, ShareASale, Clickbank, and CJ Affiliate etc.
Once you understand the affiliate marketing business thoroughly, you can always find new and more lucrative programs.
In another article we will discuss affiliate marketing business in detail, where we learn various high-end strategies used by the affiliate gurus such as funnels, landers, lead magnet, conversion optimization, email marketing, and how to find high-ticket affiliate products etc.
Also Read: Best Affiliate Programs for Beginners (High Paying)
#2. Advertising
Selling ad space is probably the easiest way to monetize your content. You put display ads on your blog and the Ad networks will pay you based on their pricing model.
Different Ad networks follow different pricing model to pay their publishers. Most common are Cost-per-click (CPC) and Cost-per-thousand impressions (CPM). Some networks also use Cost per Acquisition (CPA) model to calculate ad revenue.
You will be paid based on the actions, clicks or impressions you deliver.
To be honest, at Web Content Edge we don't prefer advertising on our web properties. Simply because you need thousands of visitors to make a decent income. Moreover, large Ad Networks will not allow you until you have millions of traffic.
Instead we use affiliate marketing to monetize our blogs. It's far more profitable and just as passive.
That being said, there are certain niches such as new, recipes, celebrity gossips, fashion etc. that are hard to monetize through affiliate marketing.
Since these topics attract a lot of traffic, display advertising may be the right choice for them.
In fact, some blogs make millions every month from display ads. For example, here's a screenshot from Fat Stacks Blog.
As you can see, Jon Dykstra makes over $81,000 a month just from advertising.
Also Read: Highest Paying Web Hosting Affiliate Programs for Bloggers
#3. Sell Services Online (Freelancing)
Freelancing is a very lucrative business. It is also quite convenient. You can sell any service you specialize in, and you can sell it very quickly. But it's also mentally draining and very time-intensive.
That being said, there are freelancers making six figures by selling services online.
If you run a blog, you can use it to showcase your expertise and capture clients. The best part, you don't need millions of blog traffic to promote your skills and services. A few thousand targeted audience will suffice.
Here's an example: Nicole Dieker makes a decent amount of money every month from freelance content writing gigs.
Make money blogging: What services are in demand nowadays?
Content Writing & Content Marketing
Graphic Designing
Web Design and Development Services
Software Development
Search Engine Optimization (SEO) Services
Website Audit
Outreach Services
Linkbuilding
Blog Management
WordPress Theme Customization
Social Media Marketing
PPC Advertising
So on…
So, if you're a content writer, designer, developer, SEO expert, or other service provider that can be performed remotely, you might want to consider selling your services from day one.
All you need to have is an online contact form so that your prospects can reach you – something you already have on your blog.
#4. Sell Digital Products
What is your expertise?
Are you a writer? Why don't you create an eBook that helps professionals in your field? Kindle books are a craze right now.
Are you a WordPress Developer? Why don't you make a WordPress theme?
A software developer? Build a WordPress plugin, an app or online tool for online marketers.
An amazing photographer? Sell your photographs for a premium price.
So on…
Whatever you specialize in, you can create a digital product and sell it online.
Here is an example to show how profitable a digital products business can be.
Amit Agarwal from digital inspiration makes good money selling Google add-ons.
#5. Sell Online Courses
Selling online courses is probably the most profitable blog monetization method. Most of the successful bloggers sell online courses.
Alternatively, you can create a membership website or a private forum where you offer paid subscriptions to your clients. Basically, you charge a regular fee to access (gated) content.
Gated content is a popular business model. There are several online forums that are exclusive to paid members. They require people to buy a membership to view premium content.
For example:
Jon Morrow from Smart Blogger sells his content marketing course for $2000. And that's just the cost of one course, he sells other courses too. Just imagine how much he would be earning by selling courses online.
However, there is a catch. In order to sell online courses, you need to build an authority first. While with consistent efforts you'll definitely do that one day, but in the beginning, you'll find it hard to convince people to buy your products.
#6. Offer Consulting or Coaching Services
Consultation services are yet another income stream to your online income. Either offer consulting services or one-on-one coaching to your clients.
Similar to freelancing, you can start offering consulting services right away. There is no startup investment involved. Just create a consultation form on your website and you are good to go.
Many businesses and entrepreneurs hire consultants who can assist their teams to perform specific tasks.
For instance, I'm a content marketing consultant. I help businesses scale up their content marketing efforts by helping them build content teams, develop content strategies, and more.
You can charge your clients by the hour for the phone, Skype or WhatsApp advice or offer a flat fee per project.
#7. Sell Sponsored Blog Posts
Sponsored content is another way to make money blogging. If your blog gets a decent amount of traffic, you don't need to do anything to get sponsored blog posts. They will come to you requesting for paid placements.
Sometimes I allow paid articles on my blogs. Depending on the blog authority and its niche, I charge anywhere from $1000 to $2500 per post.
Not convinced? Here's another example: Michelle (from Making Sense of Cents) makes around $10,000 to $20,000 per month from sponsored posts alone.

#8. Get Public Speaking Gigs
Are you an expert in your field? Are you an influencer with a decent following? Then you can cash in on this recognition.
Many successful bloggers and content marketers such as Neil Patel, Gary Vaynerchuk etc. make a lot of money by speaking at events.
For instance, Ann Handley charges $15,000 to $20,000 for a speech.
And Jon Morrow from Smart Blogger makes anywhere between $10,000 and $100,000 per speech.
A lot of money, right?
#9. Create a Job board
You can create a WordPress job board where people can post jobs by paying a fee. Even better, you can create a niche-specific job marketplace.
For example, ProBlogger job board is hugely popular among online marketers. Darren Rowse charges $75 for a 15-day standard listing. For featured listing, it is $150 for 15 days.
At any given time, there are more than 100 job postings. That means, he must be making more than an average American, just from the Job Board.
#10. Make Money Blogging: Other Income Streams
Sell Merchandise:
Just like digital products, you can sell physical products on your blog or website. However, it's not as easy as selling digital products.
First, you need to create an eCommerce portal using WooCommerce plugin or similar software. Second, there is a huge investment required in inventory and storage. Third, you'll have to handle shipping as well.
The better way is to start a dropshipping store. You don't have to invest thousands of dollars upfront to acquire inventory and store them. You don't even have to worry about shipping.
Your supplier will handle everything – from storage to packing and then delivery. All you have to do is send the order to them, and pay for the delivery and storage.
Flip Websites:
Many people are making great money flipping websites. You can too. Most broker companies offer 24x to 36x your monthly earnings.
For instance, if your blog makes $1500 a month, 24 x $15000 = $36000.
That is a lot of money, isn't it?
So, these are some of the most popular and proven ways to make money blogging. You need not to try all of them at once.
Find the best blog income streams that suits your domain expertise, skills, and other requirements. Start earning money from your blog.
Make Money Blogging (Tips for Beginners)
What we have just discussed above are the various methods that you can adopt to monetize your blog.
However, the truth is, in order to apply any of these methods, you need an audience. Without visitors, whom will you show/promote/sell your products.
Initially, for new bloggers, it can be intimidating and frustrating. There are a lot of doubts and questions – how to create content, on what topic, how to drive traffic to new blog, how to make money from blogging, and when will it happen etc.
It's quite natural. In the beginning, this happens with every blogger. So don't panic. You are not alone.
The good news is, you can achieve your blogging goals – no matter what your current circumstances are. And you definitely will. Together we will ensure that your blogging journey is on the right track.
For that you have to pay attention to some basic but important things from the very beginning.
#1. Choose a Profitable Niche (and Focus)
For a blog to be successful you have to find a niche – a very specific niche, a profitable niche. It's the first step towards your make money blogging journey.
Unless you're a big media house and run a huge lifestyle portal with hundreds of writers, you can't write about cats on Monday, internet marketing the next day, and then comedy shows on the third day. While some people do this, it is not recommended.
For two reasons:
1) You confuse both – your audience and the search engines.
2) Without any achievement, you cannot do this for long. You will lose your focus and quit.
Obviously, a person cannot be an expert in cats, internet marketing, movies, and all the other topics in the world. If you cannot deliver something useful, visitors will stop coming to your blog.
Also, search engines like Google prefer authority content. You can't expect much search traffic if your content is mediocre and vague.
So, before you start a blog, find a topic that is broad enough to create content repeatedly and is profitable. Create a blog around a single niche. Define your target audience (whom you are going to cater).
People visit your blog to find a specific solution (information, advice etc.). They will keep revisiting, if you help them find a solution. It's only possible when you stay on-topic. Rambling won't work.
So, the blog topic you choose must meet three criteria:
1) The topic should be broad enough to generate material over and over again
2) sufficient search volume
3) buyer intent
Else, first you'll struggle to drive traffic and then, to monetize your blog.
#2. Set Up Your WordPress Blog
This section is for those who hasn't started a blog yet. If you are in a planning phase, below are the steps to start a blog.
Step 1: Find a profitable niche (as we just discusses above)
Step 2: Buy a Domain name and web host for your blog (I recommend Bluehost – beginner-friendly, affordable and reliable)
Step 3: Install WordPress CMS
Step 4: Add Plugins and customize your blog design
Step 5: Optimize your blogs for search engines
#3. Content Quality: Deliver Value
I hope you have setup your WordPress blog by following the above steps.
Once your WordPress blog is up, it's time to create content. Definitely, you'll want to publish as much content as possible.
But there is a problem. Creating any content you like is not going to work.
Instead, you have to create content that:
• Your audience are interested in
• Is better than any material available online
You have to create a lot of useful content that address your target audience's pain points.
With high-value targeted content and product-led stories, you engage your visitors.
When it comes to 'making money blogging', Customer Engagement is a prerequisite.
So polish your writing skills and make sure you:
1) Find what is popular in your niche. Create content exclusively about those topics.
2) Master proven content frameworks such as how to guides, list posts, product comparisons etc.
3) Deliver better value to your blog readers (than any other content published online)
#4. Promote: Go Where Your Target Audience Is
Publish and pray approach don't work anymore. You need to promote it. Without amplification your content could only go so far.
Where to promote?
Depending on your niche, you have to choose right traffic source.
Do you want organic traffic or planning to buy it?
Since you are here to learn different ways to make money blogging, I assume that you are looking for an organic traffic source.
Organic traffic is almost free (if you do everything yourself and don't count your time and efforts). In that sense, we can say, organic traffic is unpaid (if not free).
There are two main traffic sources: search engines (read Google) and social media (read Facebook).
Both Google and Facebook are industry leaders.
So what traffic source is best for you?
It depends on your niche.
Facebook can be a good platform to promote lifestyle niches like pets, fashion, news, entertainment, and health etc.
People like to see pictures and videos. They share what they like and content goes viral. So, if you are working on such niches, you can drive massive traffic from Facebook.
On the other hand, if your topic is deep and information-focused, then you need to focus on search traffic (SEO).
For instance, if you have to find a profitable niche for your new blog, what will you do? Will you visit Facebook or search it on Google? You are right? Definitely Google.
Having said that, you can use both traffic sources, by placing more emphasis on one of them and using the other sparingly.
#5. Build Your Email List from Day One
Yes, from day one. Your list is the most valuable asset.
You Own Your Email List. Search traffic can disappear overnight with Google updates. Facebook can ban your account. But your subscribers will always remain with you. They are your biggest fans.
Create call-to-action (CTA) forms. Use opt-in pop-ups and lead magnets to capture leads. Engage them. Send them personalized messages periodically.
And finally, monetize your list strategically—by promoting affiliate products, courses, services, and other digital products.
#6. Make Money Blogging
So, you have enough content on your blog. You have promoted it through SEO, email list, social media and other platforms such as forums, Q&A sites etc.
As a result, you also have traffic to your blog. What next? Now it's time to make some money.
You can use one or more methods to monetize your blog.
If you ask me, I'd suggest begin with affiliate marketing and selling freelance services. Because, other methods such as advertisements, courses etc. require a lot of traffic and authority.
There are numerous affiliate programs to choose from. If you blog about physical products such as sports items, watches, home & garden items, books etc., you should join Amazon Associates. It is easy to join and converts like crazy.
Similarly, if you write about informational products such as internet marketing, SEO etc., you can promote e-books, courses, themes, tools etc. In that case, you can join affiliate marketplaces such as ClickBank or CJ or find individual affiliate programs.
That's all on make money blogging for now.
To your blogging success,