HARO SEO and link building strategy for beginners. How even a newbie can earn DR 90+ backlinks? In this article, I have tried to address all possible questions and concerns related to HARO SEO and link building.
So let's dive into them one by one:
What is HARO and how it works?
HARO (Help A Reporter Out) is an online platform that connects journalists (looking for insights for their stories) with sources (looking for media coverage and backlinks).
Using the HARO platform, journalists post questions ('Queries') related to their stories, and sources (authors, bloggers, marketers, industry experts) provide relevant answers ('Pitches'). If journalists find a pitch useful, they include it in their article and link back to the source's website.
This way, journalists get the required information and sources get media coverage and/or backlinks. A win-win situation!
What is HARO in SEO? OR What does HARO SEO mean?
HARO SEO is all about building backlinks using the HARO platform. The best part, you earn strong backlinks from authority websites. As every SEO and digital marketer knows, backlinks from high DR (DR 70+) sites are very useful for your search rankings.
Looking for HARO SEO service? See our DFY HARO backlinks Service to get DR 70+ links
Is HARO good for SEO?
Definitely. HARO SEO is one of the best SEO and link-building strategies out there. How?
HARO links are safe, trustworthy, and cost-effective:
High DR links (average DR 75)
Earned backlinks (not bought)
Organic and contextual backlinks
Dofollow links (mostly)
White hat backlinks
Besides these, you may get a lot of referral traffic, which will further boost your SEO prospects (think: Google E-E-A-T factor).
What is HARO in link building?
HARO offers an opportunity to land powerful backlinks and organic referral traffic. Bloggers and digital marketers use the HARO platform to build backlinks for their websites.
Is HARO good for link building?
HARO is an excellent way to build backlinks. Because HARO links come from authority publications, Google considers them valuable and trustworthy. Plus, anyone, even a beginner, can use HARO to get strong backlinks and gain media coverage. Furthermore, HARO links are scalable, unlike other link-building methods.
How do I get backlinks on HARO (How do I use HARO backlinks)?
Getting backlinks using HARO is fairly straightforward. Here are the steps:
1) Sign up on the HARO site as a source.
2) Set the preferences and follow the steps mentioned.
3) Once the account is created, HARO will send you 3 emails a day with lots of questions from journalists.
4) Look for queries related to your niche/topic.
5) Whenever you find a query related to your business, write a compelling pitch and send it back to the email provided with the question.
You are done.
To be clear: These are just the beginning steps to start HARO link building. But if you are serious about link building through HARO then you have to work smart and follow the proven HARO links strategies.
Want to know how to increase your chances of appearing on top sites (and getting backlinks) using HARO? Here is the detailed guide on HARO for SEO backlinks and PR.
Also Read:
How to Write a Compelling Pitch Journalists Can't Ignore?
Does HARO cost money?
HARO offers both free (Basic) and paid (Premium) plans. Their free/basic plan is sufficient for most users. In a free plan, you get access to their database of journalists' queries and basic support.
HARO Premium plans start at $19 per month. This gives you first access to journalists' queries along with premium support.
How do you succeed in HARO? OR How do you get quoted in HARO?
To Succeed in HARO link building:
1) Be consistent
2) Respond ASAP
3) Write compelling pitches that add value to journalists' stories
4) Avoid non-relevant queries.
5) Build relationships with journalists
6) Be patient – HARO link building takes time. But if done properly, it is well worth your time and effort.

How do you pitch on HARO? OR How do you write a HARO response? OR How do you reply to a HARO query?
Correct pitching is critical to success in HARO SEO link building. These proven steps will improve your pitch acceptance rate:
1) Focus on relevant queries only.
2) Understand what the reporter is looking for.
3) Craft a compelling pitch answering the query's demands.
4) Keep it brief. Limit your pitch to 150 words or less (in most cases).
5) Proofread: Do not make grammatical mistakes.
6) Avoid jargon or informal words.
7) Write a catchy subject title that compels the reporter to open your email.
8) Reply immediately.
9) Include your short BIO, website URL, image link, social profile link, and other details as asked.
What is HARO writing?
HARO writing refers to how you write an engaging HARO pitch. Journalists come to Haro looking for unique insights from industry experts. So, your pitch should reflect that expertise and professional experience. It should stand out from the hundreds of responses reporters get to their questions.
How does HARO contribute to the journalism industry?
Haro is a PR marketing platform. It connects journalists with subject-matter experts. This allows reporters to obtain the authentic and first-hand information they need for their stories.
What is HARO in marketing? What is HARO marketing?
HARO is an excellent online PR marketing tool. Brands and marketers use HARO to build backlinks and receive valuable media coverage from top publications. This is great for your SEO and branding.
What is a HARO specialist?
A HARO specialist uses the the HARO platform to connect with journalists for link-building and media coverage. Many seasoned online marketers and bloggers use HARO SEO to earn high-value backlinks from popular sites like
Forbes, Wired, Insider, Bustle, Inc., USA Today, Entrepreneur, Homes & Gardens, Shopify, Business Insider, DataBox, Fiverr, SHEFinds.com, CMSWire, and more.
Is HARO link building a tool?
HARO is a valuable PR marketing and journalistic outreach tool. Brands and website owners use Haro for link building. Thus it can be said that HARO is also a link-building tool.
What are HARO links?
HARO links are the backlinks you acquire using journalistic outreach via the HARO platform. Even beginners can earn DR 70+ links with the HARO SEO link-building strategy.
Most of the queries on HARO come from popular and high-traffic websites. This means with HARO SEO you can also expect the much needed organic referral traffic.
What are the benefits of HARO?
HARO has two major advantages.
1) HARO SEO. Haro provides marketers with an excellent opportunity to appear on high-traffic and DR 70+ sites and earn valuable backlinks. This helps them build authority and credibility, which is not easy otherwise.
2) HARO gives journalists easy access to subject matter experts. This way they can easily get authentic inputs from trusted sources.
Is HARO free for journalists?
Journalists can submit source requests (queries) for free, as long as their requests meet HARO guidelines.
Is Help A Reporter Out worth it?
Absolutely. If you are a marketer or blogger looking for link-building and PR opportunities, HARO SEO is probably the most effective way to go. HARO provides a great opportunity for media exposure and powerful backlinks from top publications.
How do I submit a query in HARO? OR How do I post on HARO?
Here're the steps to start as a journalist on HARO:
Sign up on HARO as a journalist.
In your HARO dashboard, choose My Queries > Submit Query.
A form will open. Fill in all the query details in the form and hit the "Submit Query" button.
Your job is done.
Now wait for pitches from the "Sources" to arrive in your registered email.
Don't forget to read the "Query Guidelines" given here.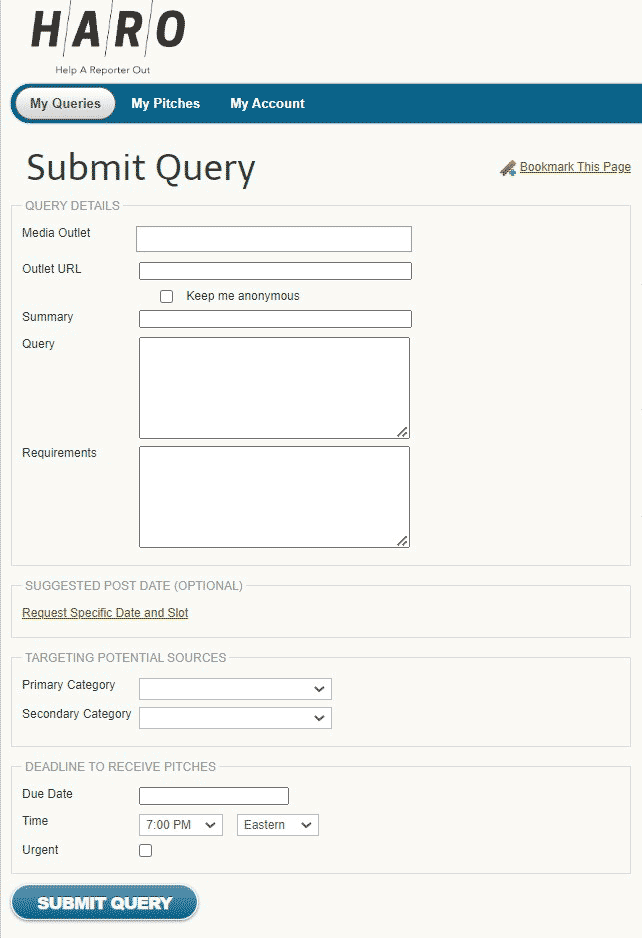 How do you use HARO as a source?
Visit the HARO site: https://www.helpareporter.com/.
Click on the "I'm A Source" Button.
Sign up as a Source.
Set preferences and choose industries you are interested in.
You are all set.
HARO will send you THREE emails per day (Monday to Friday) containing requests [questions] from journalists.
Choose a question related to your business.
Write a compelling pitch.
Send your response to the email provided with the question.
Now wait for the miracle to happen.
Who owns Help A Reporter Out?
Help A Reporter Out (HARO) is owned and operated by Cision Ltd. is near. Cision is a leading PR and Marketing Communications software company.
In addition to HARO, Cision also owns companies such as PRNewswire, PRWeb, Bulletin Intelligencer, Canada Newswire, and more.
Is link building easy?
Link building is not easy. But it is not that difficult either.
Many SEO people and marketers indeed struggle to build quality links to their sites. Therefore, they consider backlinks to be the most difficult part of SEO.
However, link-building can be easier if you learn certain skills and adopt proven link-building strategies. HARO SEO Link Building is one of them. Others include content writing and outreach skills.
Does link building still work?
There should be no doubt that link building is still relevant to SEO. The only difference between then and now is that Google has become smarter and hence link quality has become more important than quantity.
Gone are the days when even building lots of poor quality and spammy links would boost search rankings. Now this will do more harm than good. Now you have to get quality backlinks from relevant sites only. This is another reason why you should use HARO links.
What should you avoid in link building?
You should avoid these link-building mistakes this year:
1) Don't build backlinks from:
a) Poor quality sites
b) Non-relevant sites
c) Forums and spam sites
d) Sites that sell links
e) Sites with poor/duplicate content
f) Sites with toxic link profiles
2) Do not create all dofollow links
3) Don't use too many exact match anchor text
4) Don't get site-wide links like footer links.
5) Avoid private blog networks (PBN)
These are some of the frequently asked questions on HARO SEO. I will be adding more questions on HARO link building in coming days.
To your SEO and blogging success…
By Meira Rawel
Meira Rawel is a Content Marketing Strategist at Web Content Edge. She has over 10 years of experience in content marketing and SEO. With a passion for creating engaging online experiences, Meira is instrumental in developing content marketing strategies for our clients that drive organic traffic, improve user engagement, and increase conversion rates.